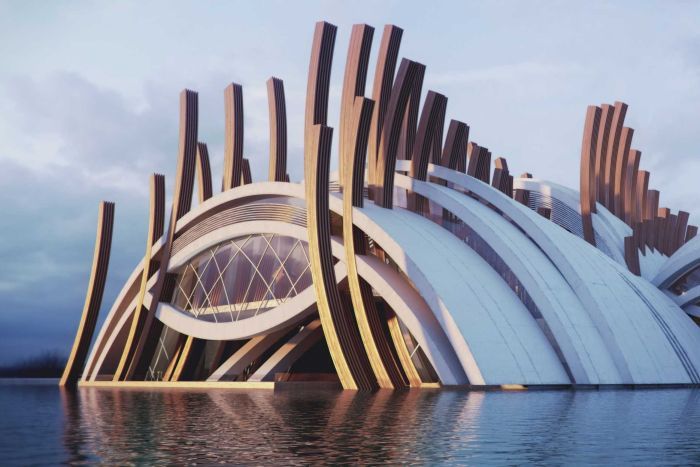 Shane O'Riley's bold design for a Perth International Concert Hall, to be built on the Swan River at Elizabeth Quay. [Photo provided to chinadaily.com.cn]
Shane O'Riley is a man with a vision. He's spent five years working on a dramatic design for an international concert hall for the Elizabeth Quay riverfront development, only now releasing it to the public.
A Perth-based building designer who works on large residential projects, Mr O'Riley said he began the design as a private project to showcase his skills.
"When the second Narrows Bridge went up I thought that was a wasted opportunity to do something with that landscape," he said.
"I knew there was a parcel of land earmarked for Elizabeth Quay before the public knew, and I researched the Indigenous heritage of the area.
"The underlying brief was very simple. It needed to compete as an icon against concert halls and opera houses around the world, not just Sydney."
His design is already drawing strong responses from the public: some love it, some hate and others have compared it to an echidna.
The projected cost - $1.2 billion - has many doubting it will ever be built but Mr O'Riley says he's resilient and prepared to work long and hard to realise the building.
"I'm thick-skinned and I'm able to take on board the polarising comments that a structure of this magnitude would open up," he said.
"At the same time there has been a lot of very positive feedback on it because I think Perth very much needs this icon."