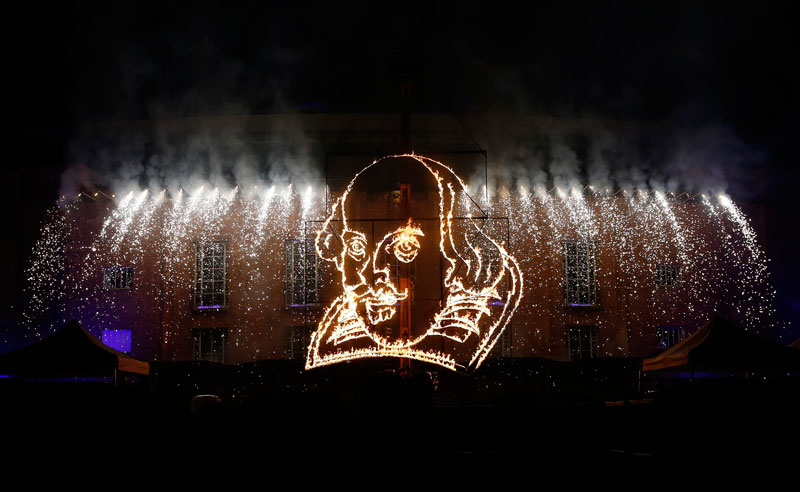 A flaming depiction of William Shakespeare is seen during a firework display at the Royal Shakespeare Company marking the 450th anniversary of Shakespeare's birth in Stratford-upon-Avon, southern England April 23, 2014. Known as the Bard and regarded as England's greatest playwright, Shakespeare, whose 450th birthday is celebrated on Wednesday, let his imagination roam as widely as his characters. [Photo/Agencies]
STRATFORD-UPON-AVON/LONDON, Britain - William Shakespeare's hometown Stratford-upon-Avon on Wednesday celebrated his 450th birthday with a massive fireworks display, while a major theater in London launched his famous play
Hamlet
on a two-year global journey to mark the landmark anniversary.
Shakespeare in Stratford-upon-Avon
In Shakespeare's birthplace, Stratford-upon-Avon in the English Midlands, the Royal Shakespeare Theater on Wednesday marked the anniversary with a firework display from the roof of the theater.
Gregory Doran, artistic director of the Royal Shakespeare Company (RSC)said: "This will be a wonderful way of marking the 450th birthday of our house playwright, and the beginning of a great arc of work celebrating his genius from this 450th birthday year to the 400th anniversary of his death in 2016. I hope as many people as possible will come and enjoy the fireworks, especially our friends and neighbors who live here in Stratford."
Stratford's tradition of Shakespeare birthday celebrations dates back to 1824 and brings together residents and visitors with people from the worlds of diplomacy, theater, literature and academia.
During this weekend from April 26 to 27, festivities will start with a 1,000-strong procession through the town which finishes with the laying of flowers on Shakespeare's grave at Holy Trinity Church.
Starting with a special performance on Friday evening and Saturday morning outside Shakespeare's birthplace, there will be events at the five Shakespeare family homes and free entertainment in the streets and parks of the town throughout the weekend.
A range of free activities will be held in the theaters, including storytelling sessions, stage fighting workshops and the chance to see how fake scars and bruises are created.
"All of these activities will serve to draw attention to the celebrations and the partnerships encouraging footfall through Stratford on this important weekend in the town's tourist calendar, " said Val Harris, a project manager of Shakespeare's Birthday Celebrations.
"This year is an important year in the Shakespeare timeline - 450 years from his birth - and we want to make it a birthday to remember with increased footfall and even more reason for people to come and visit Stratford," she said.
Meanwhile, a concert in Holy Trinity Church Thursday will launch a three-year global singing project by the Shakespeare Birthplace Trust (SBT), called 'Singing Shakespeare' to inspire choirs to perform musical settings of Shakespeare, and has commissioned 12 new choral settings of Shakespeare-themed compositions suitable for choirs or any age, size and ability.
The SBT is also taking Shakespeare on the Road to Shakespeare festivals across the United States.
"2014 is the 450th birthday of Shakespeare, and I am really excited about what the town and the RSC has planned to mark this very special year," said Geraldine Collinge, director of events and exhibitions of RSC.