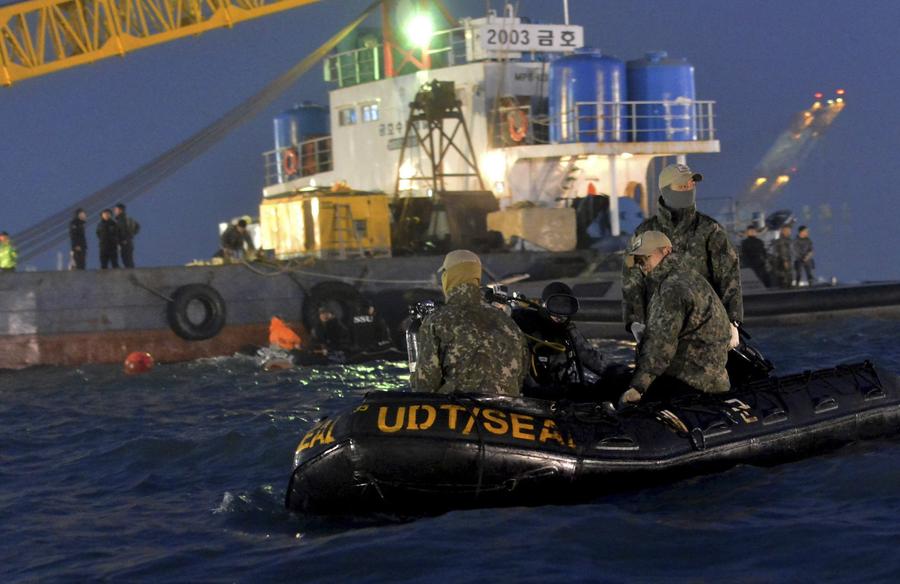 Divers operate at the site where the capsized passenger ship Sewol sank in the sea off Jindo, during the search and rescue operation in the sea off Jindo, April 22, 2014, in this picture provided by South Korean Navy and released by Yonhap on April 23, 2014. South Korean divers swam though dark, cold waters into a sunken ferry on Wednesday, feeling for children's bodies with their hands in a maze of cabins, corridors and upturned decks as they searched for hundreds of missing. [Photo/Agencies]
JINDO, South Korea - Death toll from a sunken South Korean ferry rose to 150 on Wednesday as hundreds of divers speed up the grim task of recovering bodies from the submerged vessel.
As the search and rescus operation has entered the eighth day since the ferry sank on April 16, 152 people are still missing, with the number of those rescued unchanged at 174.
Search operation repeated a suspension and resumption as tidal currents became faster than forecast overnight.
Waters off Jindo Island, where the 6,825-ton ferry Sewol capsized, are famous for the country's second-fastest currents. Weather forecast said that the currents would slow down for four days through Thursday.
Water temperature is around 11-12 degrees Celsius in the morning, with waves being as high as 0.5 meters.
Some 550 coast guard, navy and private divers continued to search inside the submerged vessel, while 212 rescue ships and 34 planes scoured the waters for the missing.