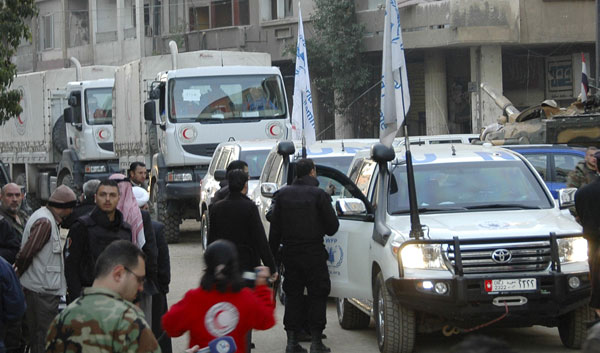 A United Nations and Syrian Arab Red Crescent aid convoy is seen along a street in Homs city, February 8,2014, in this handout released by Syria's national news agency SANA. [Photo/Agencies]
DAMASCUS - Two busloads of relief aid succeeded in entering the rebel-held old city of Homs in central Syria on Saturday to deliver aid rations to the trapped civilians, while other buses failed to enter due to the sudden attack by the rebels, official sources in the Homs governorate told Xinhua.
Delivering aid rations and evacuating civilians from the old city of Homs was part of an agreement concluded lately between the Syrian government and the UN, under which a truce between the government troops and the rebels went into effect Friday.
But the rebels breached the truce Saturday by launching mortar attacks against a police department and a square where the aid conveys were stationing, the official media said.
Meanwhile, four volunteers of the Syrian Arab Red Crescent (SARC) were injured in mortar attacks as a UN aid convey entered the besieged old city.
A day earlier, a total of 83 women, children and elderly civilians were evacuated in the first batch and many more are to leave within the next few days. About 2,500 people are believed to be trapped in the rebel-held old city, part of which have been under government troops' siege since June 2012.