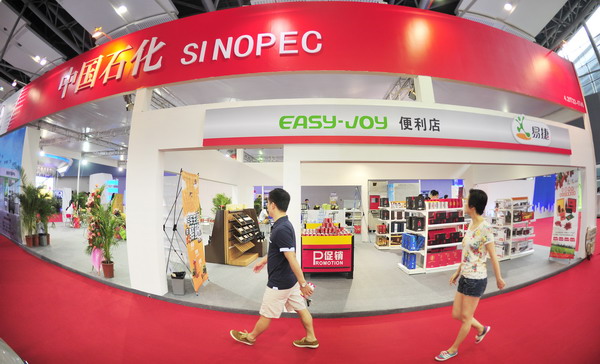 An Easy-Joy booth at a trade fair in Guangzhou. Easy-Joy, affiliated with Sinopec's 23,000 gas stations nationwide, will gain from the joint purchasing agreement between the two companies. Provided to China Daily
Easy-Joy outlets to offer pickup services foronline customers
State-owned China Petroleum and Chemical Corp (Sinopec) signed a strategic cooperation agreement on Friday with domestic business-to-consumer online supermarket Yhd, another step in the oil company's mixed-ownership reform.
The companies will jointly purchase certain items, with Sinopec using Yhd's global supply chain to cut costs and the e-commerce company using Sinopec's gas stations as pickup locations for customers, the energy company said.
Sinopec owns 23,000 Easy-Joy convenience stores, which are affiliated with its gas stations. These outlets will offer Yhd's customers a place to pick up orders placed online.
Yhd will also create a channel on its website for Sinopec products.
Sinopec has also recently reached agreements with Taiwan-based Ruentex Development Co Ltd, Tibet Highland Natural Water Ltd and SF Express Co Ltd to develop various businesses.
Lin Wenbin, an analyst at IT consultancy Analysys International, said that the products in Sinopec's convenience stores are very similar to those offered on Yhd. Joint purchasing will create economies of scale for both companies.
The agreement will help Sinopec to brand its products on a well-known, mature online platform, he said.
"All e-commerce companies are making the online-to-offline channel a key task this year, and Yhd will find that process easier through its cooperation with Sinopec by making use of the gas stations as its offline locations," Lin said.
Sinopec owns more than 30,000 gas stations, and it is China's biggest refined oil product provider with a market share of up to 60 percent.
Lin said many e-commerce companies are seeking ways to develop their O2O businesses. One such example is Alibaba Group Holding Ltd, which is cooperating with post offices to provide sites where customers can collect orders.
"It will be even more valuable if the cooperation between Sinopec and Yhd is exclusive. If not, many other e-commerce companies may work with the oil company in the future," he said.
According to Sinopec, revenue from products other than fuel totaled 13.3 billion yuan ($2.16 billion) in 2013 and it expects the figure to reach 15 billion yuan this year.