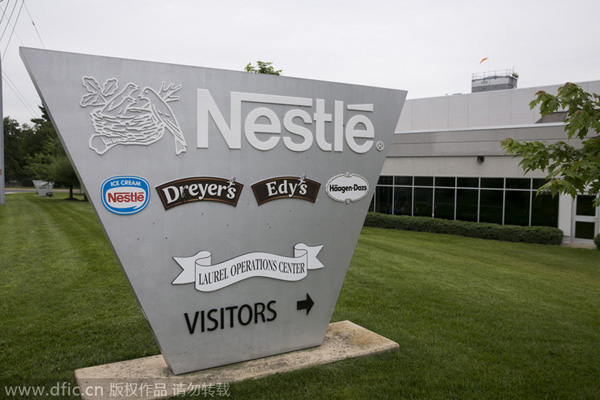 A Nestle USA ice cream manufacturing facility in Laurel, Maryland, on June 23, 2014. [Photo/IC]
If China's anti-monopoly regulations follow international norms, it would not affect Swiss companies too much, the head of the nonprofit organization Swiss Center Shanghai said.
Managing Director Nicolas Musy of the center said that almost all the Swiss companies active in China are also active in other key markets including the United States.
Musy said that the Swiss companies will not be affected much if China complies with international anti-monopoly practices.
His words follow various companies coming under the spotlight in recent months as China intensifies its efforts to crack down on monopolies.
Chinese authorities have said the law is being applied to both domestic and foreign firms, with the aim of protecting consumers.
China and Switzerland have seen a decade of growth in bilateral trade and investment. Many well-known Swiss companies, such as food and beverage company Nestle, pharmaceutical company Novartis AG, and elevator and escalator manufacturer Schindler Group, have set up production and research and development centers in China.
Musy also revealed that Swiss companies remain the most confident about their businesses in China in the next five years, and almost two-thirds of Swiss companies plan to increase investments in the country.
Sales and profits of Swiss companies in China have continued to grow this year. Expectations of annual profit increase have more than doubled since 2012, according to the Business in China 2014 survey recently conducted by the Swiss Center Shanghai and the China Europe International Business School.
"In 2014, Swiss firms in China expect, on average, a 5.6 percent growth in profit, up from 3.5 percent in 2013 and 2.6 percent in 2012," said Musy.
"Swiss and European SMEs in China are now more than ever seeing higher percentages of global sales generated in China," said Musy.