The China Securities Regulatory Commission on Friday released a regulation on the marketing and sale of privately offered investment funds.
Under the regulation, qualified investors in these funds will be classified strictly according to the scale of their assets, risk tolerance and the minimum required investment amount.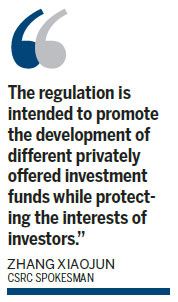 Recommendations for privately offered funds are to be targeted to prospective investors based on their risk tolerance.
PE firms and institutional investors, including pension funds and investment plans registered with the Asset Management Association of China, are automatically deemed to meet the requirements for being qualified investors. Under the regulation, no marketing material may be sent to institutions or individuals who are not classified as qualified investors.
"Private equity and venture capital play an important role in China's economic transition and the regulation confirms its position, which is good news for us," said Yang Hongqiang, president of Wuling Mountain Tourism Industrial Investment Fund, a national industrial investment fund.
Privately offered funds can include those that invest in equities, other securities or specific commodities such as art or wine. Venture capital funds are classified as private equity funds. "Developing venture capital funds is a wise way to support more small and medium-sized enterprises in China," said Yang.
"The regulation is intended to promote the development of different privately offered investment funds while protecting the interests of investors," said Zhang Xiaojun, a CSRC spokesman.
Zhang noted that all managers of privately offered investment funds are required to register with the Asset Management Association of China.
The central government this month set aside 2 billion yuan ($324.8 million) to purchase stakes in 49 venture capital funds, a move that it hopes will attract additional investors. Local governments will also take stakes in these funds.
The venture capital funds will focus on startups and innovative SMEs. The investment areas will be strategic emerging sectors such as alternative energy, new materials, energy conservation and environmental protection, biomedicine and low-carbon industries.