Timing, funding main challenges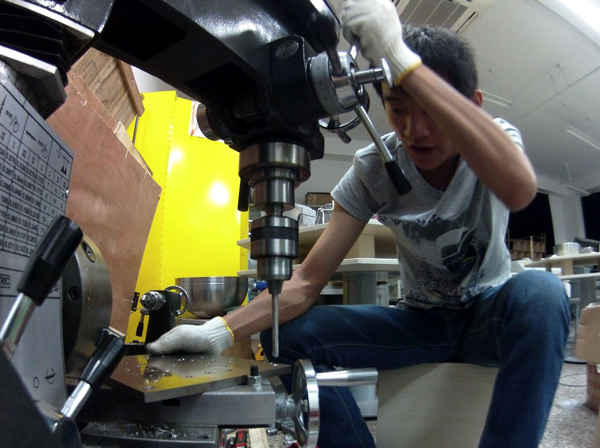 Wu Xiaofei, a machinery manufacturing specialist at Link Space in Shenzhen, works on the shaker table, part of the research equipment for the company's rocket launch project. PROVIDED TO CHINA DAILY
They may be aiming for the stars, but the problems facing three young entrepreneurs are Earth-bound, as they try to successfully launch the first private rocket firm in China.
In the capital-intensive space industry, their main adversaries at the moment are funding and time.
"We want to compete with a reasonable price, so we really need to be open to the market before other competitors come in," said Hu Zhenyu, founder and CEO of Link Space. "Efficiency is a major issue."
The company was registered in Shenzhen, Guangdong province, in January, with Hu and two other men in their 20s forming its management: Yim Shingyik, a PhD candidate at Tsinghua University and Wu Xiaofei, a machinery manufacturing specialist.
Hu has a clear timetable: This year, research and development on a variable thrust prototype will be finalized; in 2017, they will launch a research rocket; and in 2021, they will put a launch vehicle with a diameter of more than three meters into space.
The business plan also envisions point-to-point sub-orbital manned transportation, which would enable passengers to fly from Hong Kong to California in about 30 minutes.
"The timetable was made based on our research, technology and market demand," said Hu, who graduated from South China University of Technology in June. "The 2021 target was made according to the experience of SpaceX."
California-based SpaceX is a giant in the commercial space sector, and Hu was understandably reticent to compare Link Space to the company. "We still have a lot of catching up to do," he said, but he is confident of achieving the goal.
SpaceX was established in 2002 and its founder, Elon Musk, has invested in excess of $100 million, a budget well beyond Hu's.
Hu has devised a business plan where an initial investment of 5 million yuan ($810,000) would mean a 5 percent share of the company, giving the enterprise an estimated worth of 100 million yuan.
The average price of launching a research rocket is 3 million yuan, according to tech.sina.com.cn. Link Space wanted to lower the price to 2 million yuan and also provide more value.
"One way to cut the cost is by removing contractors," said Hu. "And our team is more flexible for innovations and implementation.
"Compared with big companies or State-owned institutions, we have less administrative overhead," Hu said.
But space specialists, while excited at the prospect, know that space can be a costly business.
"Funding is a major issue," said one specialist who requested anonymity.
"You have to invest a lot of money. And this industry is full of risk and has seen many failures," the specialist said. "Even SpaceX hit some rough times and it was on the edge many times."
Government regulations are another potential obstacle.
China does not have a clear application process or management approach regarding rocket launches by individuals or civil organizations. Hu said he only needs to get permission from air traffic control departments, but this may change.
"Right now the government has no clear regulations on this issue, but that does not mean there won't be any," the specialist added. "If companies like Link Space want to go into space, there will be more uncertainties on the road ahead."
Contact the writer at suzhou@chinadaily.com.cn