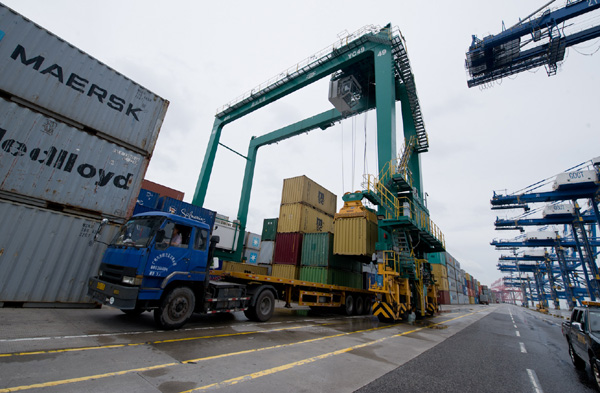 Containers being loaded at the Nansha Port in Guangzhou, Guangdong province. [Photo/Xinhua]
Increased demand from overseas markets helped revive trade prospects for small and medium-sized exporters in the Pearl River Delta region during July, a new industry report said on Friday.
The trade climate index, which reflects exporters' confidence in trade, stood at 98.88 in July due to increased labor and production costs and fluctuation of exchange rates. But a rising number of exporters said overseas orders have rebounded thanks to increased demand for Christmas-related products, according to a report released by Shenzhen Onetouch Business Service Co, a subsidiary of Alibaba Group Holding Ltd.
The report was based on a survey of 500 small and medium-sized companies in the delta region.
Zhang Xingming, general manager of the Huidong Youme Shoes Factory, said orders from regular overseas buyers and inquiries from new customers have started to pick up since late July.
"Compared with the low demand from overseas customers during the previous two months, overseas orders increased in July as the global market witnessed increased demand for Chinese products," Zhang said.
According to Zhang, orders to the Huizhou-based factory increased by about 30 percent in July.
"Suppliers and companies, which we visited in Shenzhen and Guangzhou during the first half of the year, faced similar predicaments like us. Most of them were faring badly due to the decreasing demand in the overseas market," Zhang said.
Tan Zhenghui, general manager of Dongguan Topson Electronic Technology Co, said efforts to develop new products helped secure orders for the company.
"The market competition for electronics products has become more fierce and we witnessed a low season before July," said Tan.
To better meet the market demand, the company developed its own brand and applied for trademarks in the European Union and the United States in May and June.
"We also expanded processing lines to produce power banks and electronic cigarettes in the previous months, which helped us cater to more orders from overseas buyers in July," Zheng said.
In Guangdong province, which contributes about one-fourth of the country's trade, the import and export value increased 6.8 percent year-on-year to 564.92 billion yuan ($91.8 billion) in July, the highest level in a single month this year, according to data provided by local customs authorities.
Xiao Feng, deputy general manager of Shenzhen Onetouch Business Service Co, said the improved business climate would extend into the second half of the year.
"Prospects will improve further if the government announces some incentives to boost trade," Xiao said.