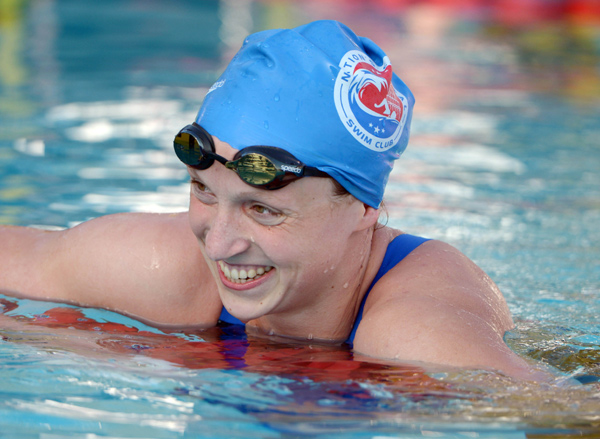 Katie Ledecky celebrates after setting a world record of 3:58.86 in the womens 400m freestyle at the 2014 USA National Championships at William Woollett Jr. Aquatics Complex August 9, 2014.  [Photo/Agencies]
CANBERRA -- The 17-year-old American swimmer Katie Ledecky refreshed her own world record in the 400m freestyle at the Pan Pacific Championships in Australia on Saturday.
The schoolgirl clocked 3:58.37 seconds to beat her previous mark by 0.49seconds.
Ledecky also holds the world records in the 800m and 1500m freestyle to make her the first woman since Janet Evans to hold all three records at the same time.
Ledecky has collected four gold medals at the Pan Pacific Championships on the Gold Coast after wins in the 200m and 800m freestyle and as part of the USA 4x200m freestyle relay.