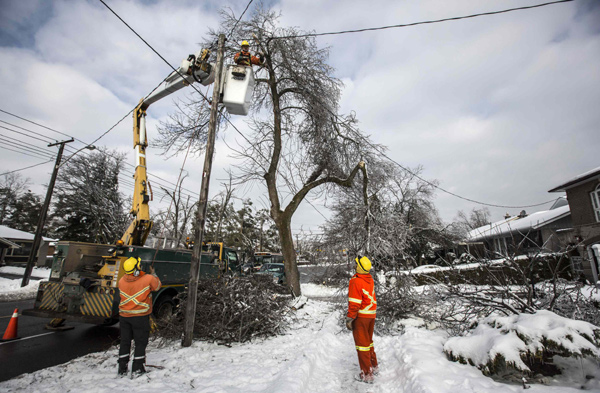 Toronto Hydro employees work to restore power in the Scarborough suburb following an ice storm in Toronto, December 27, 2013. Over 30,000 residents were left without power in Toronto Friday since the storm hit on December 22, local media reported. [Photo/Agencies]
AUGUSTA, Maine - Utility crews from Maine to Michigan and into Canada worked to restore power to more than half a million homes that were left in the dark by last weekend's ice storm, which has been linked to 27 deaths.

In the United States, the death toll from the storm reached at least 17 on Christmas day, from traffic accidents and carbon monoxide fatalities.

In Canada, 10 people were reported dead, including five who were reported dead from apparent carbon monoxide poisoning.

Police said two people in Ontario died after using a gas generator to heat their blacked-out home northeast of Toronto. Police in Quebec said carbon monoxide poisoning was believed to be the cause of three deaths in a chalet on the province's North Shore. Earlier, five people were killed in eastern Canada in highway crashes blamed on severe weather conditions.

The ice storm last weekend was one of the worst to hit during a Christmas week, and repair crews were working around the clock to restore service.

As temperatures plunged into the low single digits (below minus 7 Celsius) in Toronto, authorities reported a dramatic jump in calls for suspected carbon monoxide poisoning, responding to 110 calls in a 24-hour period. Officials said they typically see 20 such calls a day.

"I understand they want to keep warm, but you cannot do this. This is deadly," Toronto Mayor Rob Ford said Tuesday as the city issued an extreme cold weather alert.

Fire officials warned residents not to use any appliance that burns inside a home, and even cautioned against using a lot of candles.

In Toronto, about 72,000 customers remained without power Christmas morning _ down from 300,00. Elsewhere in Ontario, about 30,000 customers were still without power. In Quebec, some 28,000 customers remained without power. In New Brunswick, just under 30,000 customers were still in the dark.

Tens of thousands of homes were still without power on Wednesday in Michigan, down from more than 500,000 at the storm's peak. Maine had about 60,000 without power, down from more than 100,000.

Canadian utility officials warned that some customers could be without power until Saturday.