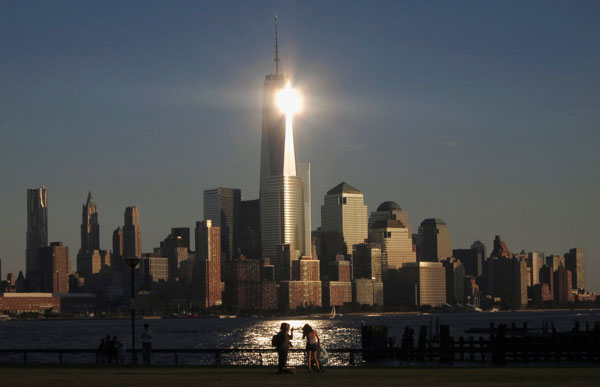 The sun reflects off New York's One World Trade Center as people stand in a park in Hoboken, New Jersey, in this file photo taken September 29, 2013. The Council on Tall Buildings and Urban Habitat has announced that One World Trade Center will be the tallest building in the United States when it opens next year. [Photo/Agencies]
NEW YORK - The skyscraper at New York's World Trade Center has been designated the tallest building in the United States by virtue of its spire, surpassing Chicago's Willis Tower, an international body said on Tuesday.
The Chicago-based Council on Tall Buildings and Urban Habitat said its Height Committee ruled the mast atop the building, built on the site of the attacks of September 11, 2001 and formerly called the Freedom Tower, was a spire and therefore a permanent feature.
If the mast were considered an antenna instead, it would be considered functional equipment and subject to change.
With the spire, One World Trade Center reaches 1,776 feet (541 meters) compared with 1,451 feet (442 meters) for the Willis Tower, formerly known as the Sears Tower. Counting its antenna, the Willis Tower reaches 1,729 feet (527 meters).
The Port Authority of New York and New Jersey, the public entity that owns the building, changed the name in 2009, saying it would make the office tower more marketable for tenants.
The council's Height Committee convened a group of 25 architects, engineers and facade consultants from around the world on November 8 to consider the issue, and ultimately decided the mast is a spire, the council said.
Because One World Trade Center is still incomplete, its designation will become official once the building is occupied in 2014, the council said. It is one of four skyscrapers planned at the site alongside a memorial, a museum, a transit center and a performing arts center.
It would then become the third-highest building in the world after Dubai's Burj Khalifa at 2,717 feet (828 meters) and the Makkah Royal Clock Tower in Mecca, Saudi Arabia, at 1,972 feet (601 meters).
However, four other buildings under construction in China and one in South Korea would be taller than One World Trade Center, according to Emporis, a database for building information.