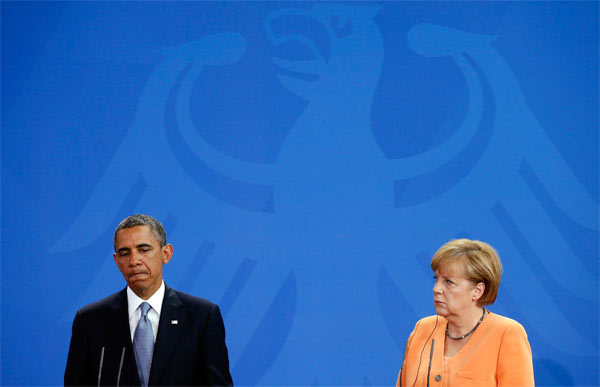 US President Barack Obama and German Chancellor Angela Merkel hold a joint news conference at the Chancellery in Berlin in this June 19, 2013 file photo.[Photo/Agencies]
BERLIN - Angela Merkel reaffirmed the importance of Germany's ties to the United States on Monday, making clear a domestic debate over granting asylum to former US spy agency contractor Edward Snowden must not be allowed to harm relations.
Calls have grown in recent days from opposition politicians and leading German cultural figures to offer Snowden asylum in exchange for his testimony in a looming investigation into alleged US bugging of Merkel's phone.
Merkel had stayed silent since a leading lawmaker from Germany's Greens party visited the fugitive US intelligence worker in Russia last week and returned to Berlin with a message that Snowden would cooperate if guaranteed safe haven.
But in an apparent attempt to nip the asylum debate in the bud, Merkel's spokesman Steffen Seibert made clear on Monday that the chancellor was not prepared to take any steps that might put the relationship with Washington at risk.
"The chancellor believes she has an obligation to protect the data and privacy of German citizens from illegal monitoring and she is working to re-establish trust with the United States, and put in place clear rules for future cooperation," Seibert said.
"That said, however, this is also about our security and our interests as partners. For us Germans, the transatlantic alliance remains of paramount importance. There is hardly a country that has profited as much from this partnership and friendship as Germany ... and this will guide the chancellor in all future decisions."
Snowden's revelations about the reach and methods of the US National Security Agency (NSA), including the monitoring of vast volumes of Internet traffic and phone records, have angered US allies from Germany to Brazil.
State surveillance is an especially sensitive subject in Germany, a country haunted by memories of eavesdropping by the Stasi secret police in the former communist East.
Top American and German security officials are meeting this week in the US to try and ease tensions caused by the reports that the NSA, for which Snowden worked, monitored Merkel's mobile phone.
The German security officials will likely report back on their trip to a parliamentary committee on Wednesday.