Japan 'provoked trouble by trying to change status quo of Diaoyu Islands'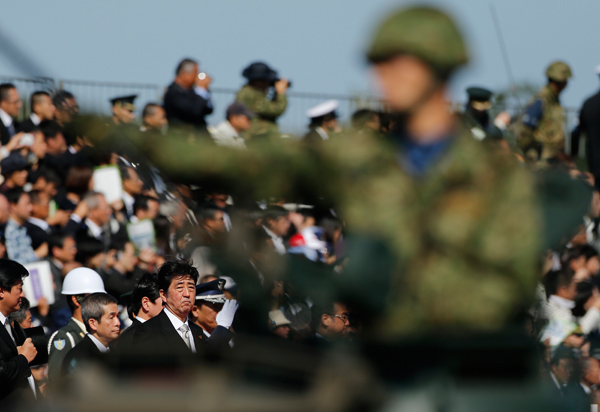 Japanese Prime Minister Shinzo Abe reviews Japan Self-Defense Force troops during an annual ceremony at a base in Asaka, near Tokyo, on Sunday. In an interview published on Saturday, Abe said Japan is ready to be more assertive toward China. [Photo/Agencies]
The outdated thinking of "the zero-sum game" has prompted Japanese Prime Minister Shinzo Abe to frequently label China as a troublemaker and an obstacle to a rising Japan, analysts said.
In response, Beijing sent a clear warning to Tokyo on Monday that it was Japan that provoked trouble by attempting to change the status quo of China's Diaoyu Islands.
Amid the widely known standoff between China and Japan, the hawkish Japanese leader accused China of using its armed forces to change the status quo. Abe made the accusations in an interview published on Saturday in The Wall Street Journal, and in a public speech to the Japanese Ground Self-Defense Force on Sunday.
"There are concerns that China is attempting to change the status quo by force, rather than by rule of law. But if China opts to take that path, then it won't be able to emerge peacefully," Abe told The Wall Street Journal.
Abe added that "many nations expect Japan to strongly express that view".
The prime minister also told the newspaper that "Japan is expected to exert leadership not just on the economic front, but also in the field of security in Asia-Pacific".
Abe based his accusation on the assumed scenario of China dispatching unmanned aircraft to conduct regular patrol flights around the islands. Earlier this month, Abe even authorized Japanese armed forces to shoot down such drones.
Zhang Tuosheng, director of the research department at the China Foundation for International and Strategic Studies, warned that Tokyo has been "obsessed in a bid for the leadership of the region".
"What we have seen in Tokyo is zero-sum-game thinking and the habit of assuming a worst-case scenario," Zhang said.
Foreign Ministry spokeswoman Hua Chunying also told a Monday news conference in Beijing that "it was not anyone but Japan that broke the status quo of the Diaoyu Islands issue".
The Japanese government unilaterally announced the decision to "nationalize" part of the islands in September 2012.
Four China Coast Guard vessels, CCG 2350, CCG 1123, CCG 2102 and CCG 2166, patrolled territorial waters surrounding the Diaoyu Islands on Monday, a State Oceanic Administration statement said.
The China Coast Guard, which enforces maritime law for fisheries, surveillance, customs and border control, has conducted 59 patrols at a minimum distance of 0.28 nautical miles around the Diaoyu Islands since September 2012.
China will continue to seek a peaceful path of development, and in the meantime it will "firmly safeguard territorial sovereignty and maritime rights and interests", Hua added.
Wu Huaizhong, director of the Japanese politics department at the Institute of Japanese Studies at the Chinese Academy of Social Sciences, said this is "a totally different era" and Japan's doomsday thinking is outdated and sensationalistic.
"The threshold of waging a war is simply much higher (than the Cold War era). Actually, Japan is not faced with anything that can be called a fatal threat," Wu said.
Defense Ministry spokesman Geng Yansheng said at a press briefing on Saturday in response to a question on Japan's plan to shoot down drones that infringe its airspace that "Chinese aircraft have never infringed on other countries' airspace, and China never allows other countries' aircraft to infringe on China's airspace."
Geng said that if Japan were to make such moves, it would be a severe provocation to China and an act of war, and China will take resolute measures to strike back. Japan will be responsible for the consequences, he added.
Zhou Yongsheng, a professor of Japanese studies at China Foreign Affairs University, said, "Such a posture (from Tokyo) has already run against the obligations stated clearly in the landmark bilateral legal documents."
The China-Japan Joint Communique in 1972 and the China-Japan Peace and Friendship Treaty in 1978 clearly state that disputes should be resolved in a peaceful manner rather than resorting to armed force.
Zhou said the Sino-Japanese relationship is unlikely to be resolved if the Japanese government refuses to work on it in a proactive manner. "Beijing has exercised restraint for a long time in controversial issues that are connected to Tokyo," he added.