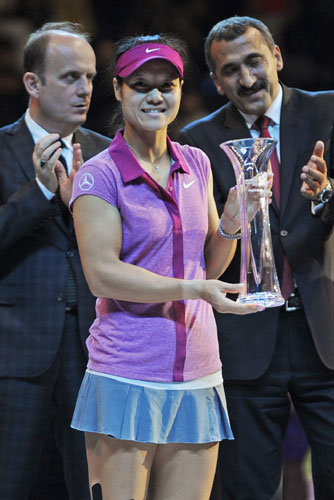 Li Na of China poses with the runner-up trophy after her WTA tennis championships final match against Serena Williams of the US in Istanbul, Oct 27, 2013. [Photo/Xinhua]
BEIJING - China's Li Na climbed into a career-high third of WTA rankings released on Monday with 6,045 points for reaching the WTA Championships final where she lost against Williams Sunday.
Li rose from fifth to third at the expense of Russian Maria Sharapova and Poland's Agnieszka Radwanska in what was the only change in the top 10.
American Serena Williams wrapped up her best career year atop the women's tennis rankings, amassing 13,260 points ahead of Belarussian Victoria Azarenka, who collects 8,046 points.
Williams, 32, won 11 tournaments - including the French Open, US Open and the WTA Finals in Istanbul.
She also became the first women player to earn more than 12 million dollars in prize money one year.
The WTA top 10 rankings released on Monday (previous ranking in parenthesis):
1.  (1) Serena Williams, United States, 13,260 points
2.  (2) Victoria Azarenka, Belarus, 8,046
3.  (5) Li Na, China, 6,045
4.  (3) Maria Sharapova, Russia, 5,891
5.  (4) Agnieszka Radwanska, Poland, 5,875
6.  (6) Petra Kvitova, Czech Republic, 4,775
7.  (7) Sara Errani, Italy, 4,435
8.  (8) Jelena Jankovic, Serbia, 4,170
9.  (9) Angelique Kerber, Germany, 3,965
10. (10) Caroline Wozniacki, Denmark, 3,520