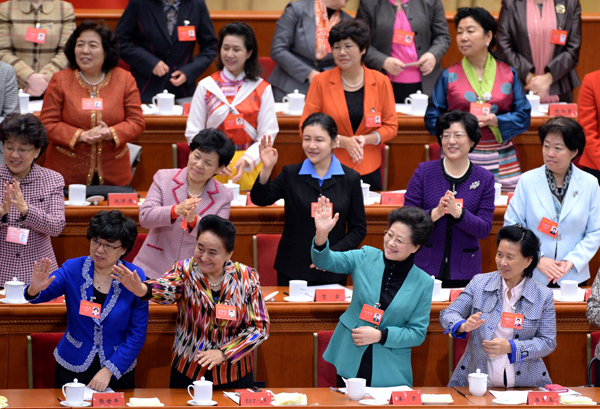 Delegates from around China attend the opening ceremony of the 11th National Women's Congress in Beijing on Monday. The congress is expected to draw up a blueprint for the economic advancement of Chinese women in the next five years. Liao Pan / For China Daily
The widening income gap between men and women was the main point for discussion among delegates on Monday at the opening ceremony of the 11th National Women's Congress.
"More efforts are needed to give women more opportunities and resources, to improve their abilities in administrating national and social affairs, and to help them play a more important role in cultural development," Song Xiuyan, vice-president of the All-China Women's Federation, said at the opening ceremony.
The congress is expected to draw up a blueprint for the economic advancement of Chinese women in the next five years.
"We will try our best to promote gender mainstreaming in the policymaking process," she said.
Though promoting gender equality was written into the Party's administrative program at the 18th CPC National Congress last year, the ever-widening income gap remains a problem.
According to three national surveys by the National Statistics Bureau, economic inequality between men and women has grown in the last two decades.
Surveys show that in 1990, the annual income of female urban dwellers was about 77.5 percent of that of their male counterparts. The ratio declined to 70 percent in 1999 and 67.3 percent in 2010.
The situation in rural areas is worse. The ratio was about 79 percent in 1999, but in 2010, it dropped to 56 percent.
"Gender inequality has become imminent, which is a direct result of discrimination," said Zhou Haibin, an official with the International Labor Organization.
"The idea that men are the breadwinners and women are in charge of domestic affairs is more or less entrenched in people's minds, leading to inequality in employment, promotion and income," said Zhou.
Bias in the workplace
Wang Ling, 26, who holds a master's degree, said she is lucky to have gotten her dream job in a wind power company in Shanghai, but she is assigned to do "less important and supportive work" as her boss is worried she can't handle many business trips.
Some of her male classmates have been offered jobs in key posts at the same company.
In 2009, the Center for Women's Law and Legal Services at Peking University surveyed 3,000 women over a year and found that 25 percent of women were denied a job simply because they are female.
A human resources worker at a State-owned company surnamed Shen, and who refused to disclose her full name, told China Daily that her employer would, without any doubt, choose a male candidate over an equally qualified female candidate. Moreover, they are willing to lower their standards in order to hire more men.
"I know that women are, more often than not, more capable than men; but they can only work for about five years before they get pregnant," she said.
"We need more stable labor forces. It sounds cruel, but that's the reality. I am a female as well, and I empathize a lot with the girls, but biology determines everything, and there is not much I can help with."
The survey also found that more than 15 percent of the women interviewed said that their income is lower than their male colleagues who do the same work, and 11 percent lost their jobs during pregnancy or after their babies were born.
Chen Shujuan, a consultant with a private company in Beijing, experienced several miscarriages before she got pregnant this year in February. For health reasons, she had to ask for a longer maternity leave of 14 weeks. However, when she asked her boss, he told her she was too weak to handle the work and not to come back.
Zhang Yuling, a technical writer with a US software company based in Wudaokou in Beijing expressed her frustration as a working mother.
"I'm an employee, but also a daughter, a wife and a mother. Everyday, I'm busy fulfilling my different roles, responding to different tasks, both at work and at home," she said. "I never really have time for myself."
The 36-year-old businesswoman said that currently, she felt stuck in her career path. "The future seems bleak," she said.
Building a network
Inspired by Facebook Chief Operating Officer Sheryl Sandberg's book, Lean In: Women, Work and the Will to Lead, a group of female professionals in Beijing are organizing regular seminars and networking events to help other women in the workforce learn new skills and encourage self-growth.
One of the organizers Charlotte Han, 25, said that the meetings are an effective way to acquire social resources as participants are all open, sharing and helpful.
"It helps me to see things out of the box. It is a support network outside of the workplace and family," she said. "I also have access to a career mentor."
The All-China Women's Federation has been advocating the economic development of women for more than 60 years.
According to Song, in the last five years, the federation has lobbied the government to give an interest subsidy for small loans for female entrepreneurs.
The total of loans from the government has reached 151.48 billion yuan ($24.89 billion), and the total interest subsidy is up to 7.76 billion yuan. The small loan policy has encouraged more than 3 million women to start their own businesses, creating millions of job opportunities.
Song also said the federation would lobby the congress to establish a gender equality evaluation mechanism for a fairer social status for women in policymaking and execution.