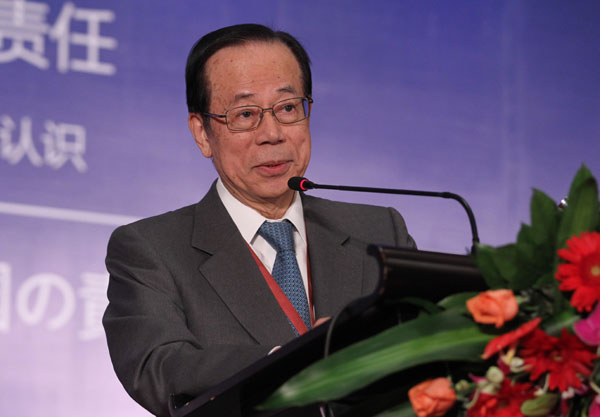 Former Japanese Prime Minister Yasuo Fukuda delivers a speech at the ninth Beijing-Tokyo Forum in Beijing, Oct 27, 2013. [Photo by Zou Hong/chinadaily.com.cn]
China and Japan should help each other and cooperate in a variety of fields to enhance mutual trust and improve strained bilateral ties, former Japanese Prime Minister Yasuo Fukuda said at the ninth Beijing-Tokyo Forum in Beijing Sunday.
Citing the success of Japan's emerging enterprises after WWII at the beginning of his speech, Fukuda said, "Running a country is like running an enterprise, and a country can never survive without reaching out for others."
"In order to survive and develop, Japan must cooperate with other countries," Fukuda said.
Japan should pursue plural diplomacy to achieve this goal. It must solve the problem of how it views history.
The former prime minister said Japan will never seek to become a maritime power but will pursue dialogue to maintain good relations with other countries.
More than 90 percent of the public in China and Japan have negative feelings towards each other, according to an earlier poll conducted by China Daily and Japanese nonprofit organization Genron NPO. But a majority of the public still regards China-Japan relations as important.
The former minister pointed out that China and Japan could cooperate in various new fields, such as development of new energy, solutions to cope with natural disasters, anti-terrorism and international peacekeeping.
"There are actually no boundaries between China-Japan cooperation. The problem is whether we want to improve," Fukuda said.
Addressing the closing of the Beijing-Tokyo Forum, Fukuda praised the forum as a perfect platform to improve bilateral ties through high-level dialogue and exchange of opinions.
More than 400 leaders from the political, business, academic and media fields took part in the two-day forum.