NQ Mobile shares dive after Muddy Waters attack
Updated: 2013-10-26 08:04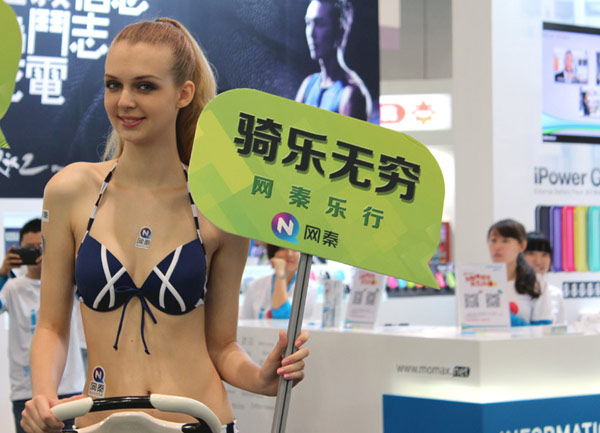 A Model of NQ Mobile Inc rides standing electric bicycles at Macworld iWorld Asia 2013 on Aug 22 2013, at the China National Convention Center in Beijing.[Liu Zheng / chinadaily.com.cn] 

Unexpected things happen to US-listed Chinese companies from time to time.
As mobile security company NQ Mobile Inc was getting ready to celebrate its eighth birthday in Beijing on Friday, it found itself under a huge attack by US short-selling firm Muddy Waters LLC.
NQ Mobile's market capitalization was almost halved when its shares traded on the New York Stock Exchange on Thursday.
The shares dropped as much as 63 percent to $8.46 in New York, the biggest fall since the company's initial public offering in May 2011, before trading was suspended. On Thursday, the shares had been up 279 percent since the beginning of the year.
Muddy Waters, which gained its fame by short selling many Chinese companies, released a harsh assessment of NQ Mobile. It called the Beijing-based firm a "massive fraud".
In an 81-page research note, Muddy Waters said that at least 72 percent of the company's purported 2012 China security revenue is fictitious.
"It (NQ) is a 'Zero'. NQ's largest customer by far is really NQ," the Muddy Waters note said.
"Our research estimates that NQ's real market share in China is only about 1.5 percent, versus the approximately 55 percent it reports. We estimate that its China paying user base is less than 250,000, versus the six million NQ claims."
NQ's high-level officials, however, managed to keep calm at Friday's birthday party, which was held in Beijing.
Read more