US short-sellers muddy the waters
Updated: 2012-02-13 09:26
By Cai Xiao (China Daily)
| | | | | | | | | | | |
| --- | --- | --- | --- | --- | --- | --- | --- | --- | --- | --- |
|   | | Comments() | | Print | | Mail | | Large Medium  Small | 分享按钮 | 0 |
Convergence of accounting rules could help firms lose 'fraud' label
BEIJING - Although shares of US-listed Chinese companies have started to rally recently, the end of 2011 saw them under pressure as the result of a series of short sales.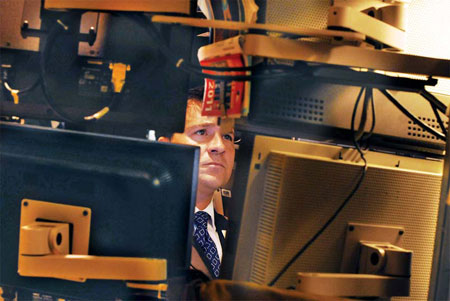 A trader on the floor of the New York Stock Exchange. The differences in accounting rules between China and the US is the main reason for widespread short-selling of Chinese companies listed in the US, experts said.[Photo/China Daily]
In the last three months of 2011 around 58 Chinese companies were facing the prospect of delisting from the US market, either because their share prices had fallen below the $1 mark for 30 consecutive days or their market capitalization was less than $35 million, according to reports in the Economic Information Daily newspaper.
"If a company's stock price or market cap does not meet the requirements of the US market, it will be sent to the Pink Sheets (the third tier of the over-the-counter market, where companies do not have to report to the US Securities & Exchange Commission or other regulators), where they will be lumped together with a lot of bad companies. Investors cannot tell the good from the bad and so they will not buy any of them," said Hong Hao, an equity strategist at China International Capital Corp Inc.
One of the most high-profile cases of US short-selling of a Chinese company is that of Sino-Forest Corp. Last year, the Hong Kong and Canada-based company was accused of financial irregularities by the US researcher, Muddy Waters LLC. The ongoing furore - which was inflamed after Carson Block, the founder of Muddy Waters, accused the Chinese company of being a 'Ponzi' scheme - saw Sino-Forest's share price plummet and brought the whole issue of short-selling of Chinese stocks to prominence.
"The difference in accounting rules between the two nations (China and the US) is a fundamental reason for the problem," said Chen Yugui, vice-president and secretary-general of the Chinese Institute of Certified Public Accountants.
Chen said that, according to US regulations, if an accounting firm wants to undertake assurance work for a company listed in the US, it should register with the US Public Company Accounting Oversight Board (PCAOB). Although a few Chinese outfits have registered with the PCAOB and are approved by the authority, many more are qualified, but have not been engaged for a variety of reasons.
"So when Chinese companies purchase 'shell' companies, in a process also known as a 'reverse takeover', to obtain a listing, their assurance work is usually conducted by small agencies, including some low-level firms that simply help with the listing procedure and then exit without offering further financial guidance.
Therefore, many Chinese companies list on the US market without being fully aware of their responsibilities or knowing how to compile annual reports under the US rules," said Chen.
He added that a few Chinese companies do have financial problems that should be checked and rectified, but many of them are not governed by the regulations pertaining to either nation.
"US-listed Chinese enterprises need not be examined by Chinese authorities, but the US does not check their financial statements in China because all their accounting work is signed off by US accountants," said Chen.
Zhou Hongyi, chairman and chief executive officer of Qihoo 360 Technology Co Ltd, China's leading Internet company in terms of active user base, wrote on his blog that a limited understanding of Chinese innovative business models is another reason why a short-seller can hurt a Chinese company.