Direct purchase plans help farmers grow bigger profits
Updated: 2012-02-13 09:29
By Tang Zhihao (China Daily)
| | | | | | | | | | | |
| --- | --- | --- | --- | --- | --- | --- | --- | --- | --- | --- |
|   | | Comments() | | Print | | Mail | | Large Medium  Small | 分享按钮 | 0 |
SHANGHAI - For Zhang Youhai, a 33-year-old pomelo grower in Meizhou, Guangdong province, one of his happiest memories of 2011 was having all his produce sold through the government's farmer-supermarket direct purchase program at an early negotiated price. Many other individual growers suffered from a fall in prices.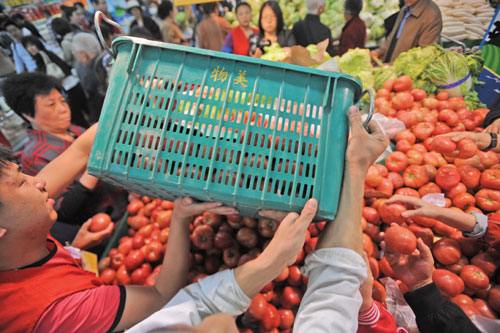 Two workers unloading tomatoes at a stall in a supermarket in Beijing. Most retailing giants in China have implemented direct purchase plans either by working with farmers' cooperatives or setting up growing bases.[Photo/China Daily]
The Year of the Rabbit was good for pomelo growers in terms of output. The annual output of the citrus fruit in Meizhou was about 400,000 tons, an increase of 20 percent from 2010.
However, farmers' incomes did not rise alongside the growth in output. The increasing market supply and lower demand in the global market triggered competition among growers and the retail price went down significantly.
The price at the end of 2011 was about 2 yuan (32 cents) a kilogram, a drop of 50 percent from August 2011.
"We had good expectations for the market performance in August. We never expected the price to drop so significantly," said Zhang. "The growing cost for a kilo of pomelos is around 2 yuan. The price drop meant some pomelo growers earned nothing for the whole year of 2011."
Zhang, whose family has grown pomelos for more than 20 years, did not suffer from the competition thanks to the farmer-supermarket direct purchase plan, which allowed him to sell 75,000 kilos of pomelos at 3.64 yuan a kilo, much higher than the average prices.
Zhang said some of his pomelos are sold to consumers through global retailing giants' distribution channels including CP Lotus Supermarket, which is a subsidiary of Thailand-based Charoen Pokphand Group.
"I signed a contract to sell all my pomelos to a fruit trading company at a fixed price. The company acted as a channel in the direct purchase plan in Meizhou. They buy our pomelos and sell them to supermarkets. My task is to supply enough pomelos at the end of 2011 to fill the orders," said Zhang.
It was the first year Zhang had joined the direct purchase plan. In previous years he said he would have had to join in price wars either to sell his pomelos or lose out in poor market conditions.
"I think I will stick to this direct purchase plan because it provides us with a guarantee in all situations," added Zhang.
The farmer is one of many in Meizhou who have benefited from the farmer-supermarket direct purchase plan, which was set up by the central government in 2008. Initiated by the Ministry of Commerce, the plan is designed to guide farmers, strengthen connections, promote distribution channels and guarantee food safety. It is also a way to help farmers increase their income and reduce intermediaries to stabilize prices at a time of high inflationary pressure.
"Urbanization has increased demand for agriculture products significantly in large cities and the development of agriculture technology and new farming skills have boosted the supply of farm produce.
"Poor information distribution channels and unstable retailing channels led to many agriculture products failing to be delivered to consumers in the most economic and effective way, and that caused significant problems for both consumers and farmers," said Liu Shijia, vice-president of China Agriculture Wholesale Market Association. "It is necessary for farmers to promote their products and develop more ways to boost sales."
Now most retailing giants in China have implemented direct purchase plans either by cooperating with farmers' cooperatives or setting up growing bases.
In June, Carrefour SA China signed a strategic memorandum with the Ministry of Agriculture to improve the existing plan. The French retailing giant is providing training to farmers to improve quality and guarantee food safety. More partnerships are being planned.
Shanghai-based Hualian supermarket said that it would add five production bases to its direct purchase program and increase the direct purchase volume by 1,500 tons of farm produce in 2012. However, the direct purchase model is not perfect and it still needs to be improved, industrial experts said.
At a time when more and more farmers are enjoying the benefits of direct purchase plans, experts say total revenue generated from them only accounts for a tiny part in the whole agriculture marketing system. Many farmers still find their products cannot be sold at good prices. Implementing the process is still challenging.
"Many farmer-supermarket direct purchase programs across the countryside are not carried out in the manner anticipated," said Liu Yutao, the deputy director of the Agriculture Bureau of Meizhou. "Some local governments or institutions simply tried match retailers with farmers. They did not really solve the problems at the heart of the plan."
Liu said it is quite important to have an agent to link the supermarkets and farmers.
"Agriculture production in China involves millions of rural households and their respective production scale is small so there should be an agent between the vast fields and urban supermarkets because I believe sufficient supply is the key to maintaining the long-term success of the plan," said Liu.