Editor's note: It's a hard time for China-based companies that are traded overseas as some face fraud investigations and credibility crises. In addition, there is widespread concerns about dotcom bubbles. Some say China concepts stocks have lost their luster, while others disagree, arguing that they are as strong as ever. Will Chinese companies that are listed overseas survive these scandals?

Chinese and US regulators meet to discuss accounting scandals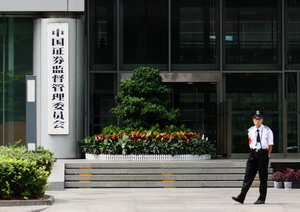 A security guard in front of the China Securities Regulatory Commission. A US delegation is visiting Beijing to increase cooperation with the nation's regulator amid questions and waves of short selling involving domestic companies listed in the United States. [Photo/China Daily] 
Strengthened regulation by Chinese and US policymakers may reduce the number of Chinese companies listed in the United States, but it will boost investor confidence, said experts.
As accounting scandals at overseas-listed Chinese companies shake both investor confidence and the prospects of mainland firms aiming to list in the US, regulators from China and the US met on Monday to resolve the issue. [Full Story]
Related Reading
China discusses allowing SEC probes
US listed firms fight short-seller claims
US-listed Chinese companies are taking action to fight fraud allegations made by short sellers such as Muddy Waters Research of the US.
Spreadtrum Communications Co Ltd, a US-listed Chinese telecom manufacturer, said recently in a public statement that the allegations made by Muddy Waters are groundless. Leo Li, its chief executive officer, told China Daily that Muddy Waters' report lacks supporting material and Spreadtrum has "solid fundamentals and fairly strong governance". [Full Story]
Related reading
Tide may be turning in battles with Muddy Waters
Chinese firms raise $1.9b in US
Led by a number of Internet companies, Chinese IPOs surged in the US in the first half of this year, Modern Express reported Thursday.
Due to investors' concern about China's inflation, recent market fluctuations and the financial fraud scandals of Chinese concept stocks, Chinese companies' IPO didn't perform as well as home, with 40 percent of them seeing a price drop on the first trading day. [Full Story]

Companies were delisted or saw their shares tumble
Reports by Muddy Waters have landed Orient Paper Inc, China MediaExpress Holdings Inc, RINO International Corp, Duoyuan Global Water Inc, Sino-Forest Corp, and Spreadtrum Communications Inc in hot water with regulators and investors.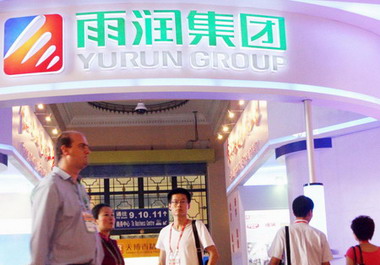 A China Yurun Food Group Ltd's booth at an expo in Beijing. Its shares declined amid speculation that Muddy Waters LLC may issue a negative report on the food company. [Photo / Provided to China Daily]
Since March, five Chinese companies have been forced to delist and 15 have suspended trading amid widespread allegations of fraud.
Share prices of reverse-merger companies from China have slumped by 44 percent by June 24, according to data from Bloomberg. [Full Story]
Related readings
Harbin Electric Co plunges 51 percent                          
Traders bet against Harbin Electric
Sino-Forest delays tour of its assets; shares dive
Stocks at mercy of rumors
The accounting troubles and short-selling attacks hitting China-based companies are creating fertile ground for the rumor mill to flourish, with some shares hammered by chatter rather than actual evidence.
Such stock swings have created a dangerous climate for even strong Chinese companies and put regulators on high alert for market manipulation.
This week, China-based meat processors China Yurun Food Group Ltd and Zhongpin Inc have seen huge volatility in their shares on heavy volume, prompted more by rumor than hard facts. [Full Story]
US brokerage moves on Chinese 'accounting scandals'
Interactive Brokers Group Inc earlier this week banned clients from borrowing money to buy any of 160 Chinese securities because of accounting scandals in China, the company's CEO said, adding that the move could prompt the nation to toughen accounting standards.
"This select group has had an increase in volatility," Interactive Brokers' founder and Chief Executive Thomas Peterffy told Reuters on the sidelines of a Sandler O'Neill & Partners conference on Thursday. [Full Story]
SEC may sue for audit data
US regulators may sue at least one China-based auditor for obstructing a probe of so-called "reverse mergers". The move comes after Chinese regulators blocked the firm from providing requested data, a person with direct knowledge of the matter said.
The Securities and Exchange Commission (SEC) launched the investigation last year amid concerns that some Chinese companies that gained listing on US exchanges were doctoring their financial statements. US exchanges have frozen or delisted shares of more than a dozen China-based companies since March. [Full Story]
Over 20 China firms listed in US accused of fraud
More than 20 of the Chinese companies listed on the United State's exchanges have been accused of fraud, China Business News reported Monday.
About 80 percent of Chinese companies listed on the US market meet the nation's standards, but 10-20 percent of the firms provided false information, the report said, citing Stephen Paul Monticelli, president of Mosaic Investments LLC, a San Francisco-based company that has invested in Chinese firms over the past five years. [Full Story]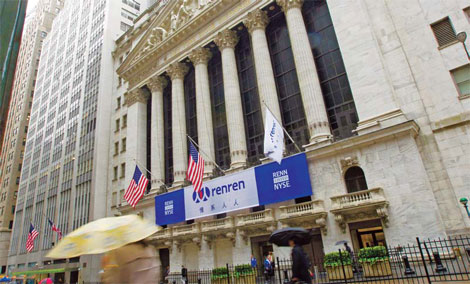 A Renren Inc banner hangs outside the New York Stock Exchange on Wednesday. Renren, thought of as a Chinese version of Facebook, rose as high as $24 from its issue price of $14 a share. [Photo/Agencies]
Renren shines on US debut; analysts wary
While foreign investors hailed the 28.6 percent surge of Renren Inc at its trading debut on the New York Stock Exchange Wednesday, analysts and industry experts in China raised concerns of a possible risk to China's largest social networking site.
They are worried that as initial euphoria fades, investor expectations could be hit by a slowdown in the company's growth rate, fierce competition and uncertainty in the regulatory environment.
[Full Story]
Related readings
China's Jiayuan.com falls on Nasdaq debut
Jiayuan.com, China's biggest dating website, fell on its first day of trading at the Nasdaq stock exchange.
[Full Story]
Related readings

Dangdang raises $272m in US IPO

China Dangdang Inc, the country's largest Internet book retailer, sold 17 million American Depositary Shares for $16 each in US stock market, totaling $272 million -- 14.3 percent more than expected. [Full story]

Youku raises $203m in US IPO

Youku.com Inc, China's largest online video company, raised $203 million  after seeking $169 million in its initial public offering in the United States.  [Full story]

ChinaCache posts the biggest 1st-day rally

ChinaCache International Holdings, China's top Internet service provider company, made its United States market debut on Oct 1, raising $84 million on the Nasdaq.[Full story]

Bona film issues NASDAQ IPO

China's Bona Film Group Ltd, the largest privately owned film distributor in China, issued its initial public offerings on NASDAQ Dec 9, raising approximately $100 million.[Full story]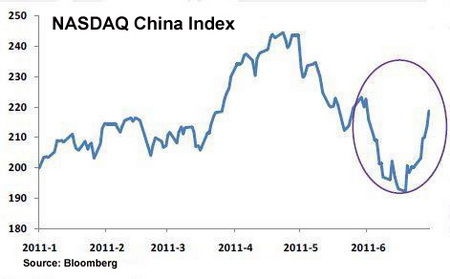 China concepts stocks will survive: Analyst
Stocks of Chinese companies that traded overseas will survive the accounting scandal and shorting crisis, an analyst told chinadaily.com.cn in Beijing on Sunday.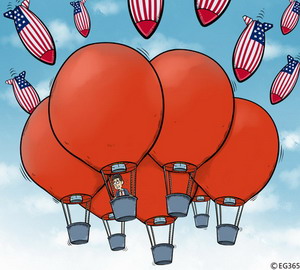 US investors are told to be cautious when investing in Chinese companies following revelations of accounting irregularities by some of those businesses. [Photo / China Daily]
The analyst,surnamed Li, said in a salon held in Peking University that overseas investors had begun to differentiate good apples from bad apples and pick them out. This can be seen from the NASDAQ China Index, which has gained some lost ground since the accounting scandal hit the market.
[Full Story]
Dot-Com becoming Dot-Con?
Just a couple of months ago the debate was still open as to whether there was a bubble in US-listed Chinese Internet stocks. Today, it's hard to deny that the bubble is there - unless it has already burst.
In recent weeks, investor fever for the typical Chinese growth story has quickly turned into doubt and panic, with many starting to shun the sector that used to provide such high rewards.
"History tells us that, with hindsight, there have been substantial under-valuations as well as substantial over-valuations of technology companies. This is because the potential growth rates are in a much wider range than companies with more traditional businesses," said Richard Lacaille.[Full Story]
China's Internet stocks lose luster
From boom to bust, China's Internet companies listed on the US stock market have fallen to earth. Shares of Renren, Jiayuan and Netqin dropped below their offering prices just days after shining performances on their first day of trading.
Their slide suggests investors may have lost their taste for China's dot-com stocks. Is it a bubble? [Full Story]
Technology IPOs maintain their luster
Analysts are still optimistic about Jiayuan.com International Ltd, NetQin Mobile Inc, and Renren Inc, the three Chinese Internet companies that listed on the Nasdaq this month, despite shares trading well below their IPO prices.
On May 11, the online-dating and matchmaking site Jiayuan.com became the latest to list in the United States, but its IPO failed to reverse a cycle of declines for Chinese companies. [Full Story]

Blackstone seeks opportunities
"The prospect for the Chinese market is very good over the long term," said Antony Leung, senior managing director and chairman of The Blackstone Group Greater China.
"We have a strong desire to invest more in China, but we are patient. We are waiting for proper opportunities," said Leung.
He suggested investors follow the government's annual report and the five-year plans to find potential opportunities.[Full Story]
Carlyle raises $495m for China fund
Global private equity firm Carlyle Group has raised 3.2 billion yuan ($495 million) for its projected 5 billion yuan China fund, launched last year, the firm said in a statement. [Full Story]
Temasek says it's 'bullish' on China outlook
Temasek Holdings Pte, Singapore's state-owned investment company, is "bullish" on China and is seeking deals even after selling some of its stakes in two of the nation's banks this week for $3.6 billion.
"China is our largest investment destination," said Nagi Hamiyeh, Temasek's managing director of investment, in Singapore on Thursday. "We are still looking for opportunities in China and we are very comfortable with our position there at this time." [Full Story]
Scandals or not, VC firms still love China Net startups
The rash of accounting scandals that has hit US-listed Chinese stocks has not curbed the appetite of private equity and venture capital firms looking for the next set of Chinese Internet stars in the mainland's "So-Lo-Mo" and luxury e-commerce sectors.
PE and VC firms are still betting on firms in So-Lo-Mo, shorthand for the social, mobile and location-based services, including Digu.cn and UCWeb, because of the impending cheap tablet and smartphone boom in China. [Full Story]

| | | | |
| --- | --- | --- | --- |
|  Company |  Category | Time   | Details  |
|  Xunlei | software, online content distributor  | 2011  | Xunlei is seeking $200 million in a US initial public offering. The Shenzhen-based company didn't disclose how much equity it will sell or give a price range in its filing with the US Securities and Exchange Commission. Owners of the company include Google Inc, according to the filing. [Full Story] |
|  Redbaby | China's biggest online retailer for baby products |  2011 | Redbaby, which sells baby items as well as other household goods will seek an initial public offering (IPO) in the United States,US venture capital investor New Enterprise Associates. [Full Story] |
| Vancl | China's biggest online clothing retailer | 2012, H2 | Vancl.com said it had been valued by private equity investors at about $5 billion. It counts private equity companies and venture capitalists IDG Capital Partners, SAIF Partners and Qiming Venture Partners among its investors. [Full Story] |
|  360buy | e-commerce, sells a broad range of products, such as electronics and cosmetics  |  2013 or later | 360buy.com hopes to raise at least $2 billion in an initial public offering (IPO) in the US by 2013 or later. [Full Story] |
| Yihaodian  | online supermarket    |  not clear  | The Shanghai-based retailer aims to break even in three years and will "most likely" sell shares to the public in the US, said Chairman Yu Gang. There is no timetable for the sale, he added. [Full Story]  |
|  Easou | mobile search engine  |  2013 | Easou may go public on the Nasdaq in New York, and Frank Wang, founder and chief executive officer of Easou, said the perfect time may fall in 2013 or 2014. [Full Story] |

Reverse-merger fallout to hurdle Chinese listings
The pace of Chinese listings in the US markets is likely to slow this year amid tougher regulations aimed at curbing backdoor listings of companies, following a series of alleged accounting scandals, analysts said on Thursday.
The US Securities and Exchange Commission (SEC) said on Wednesday that it is considering several options to address its concerns about the reverse-merger companies, which merge with a public shell company in order to gain access to the US capital market. But it did not provide details of what measures it might adopt. [Full Story]
Regulator tightens rules for approval of IPOs
China's securities regulator has tightened its approval requirements for initial public offerings by companies in industries seen as having a high risk of financial irregularities, including restaurants and chain stores, industry sources told Reuters.
While there was no clear signal from the Chinese government on the reasons behind the changes, at least some of the steps appear to have happened in the wake of accounting scandals among some Chinese companies listed overseas, which have cast a spotlight on weaknesses in Chinese corporate governance. [Full Story]
D&O premiums skyrocket after US lawsuits
The price of directors and officers liability insurance (D&O) in China has gone up more than 20 percent this year, after a series of class-action lawsuits against US-listed Chinese companies pushed up risk-insurance premiums. [Full Story]




Produced by Song Jingli
Home