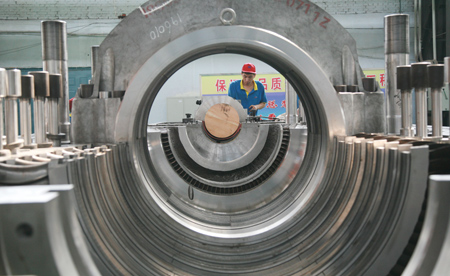 A steam turbine at Harbin Electric Co Ltd. The shares of the US-listed maker of electric motors plunged 51 percent in the heaviest day of trading in its history. [Photo / China Daily]
Shares tank after questions about company's management-led buyout
NEW YORK - Shares in Harbin Electric Co Ltd collapsed on Thursday, as a report from a short-seller led investors to bail out of the US-listed Chinese maker of electric motors rather than wait and see if a proposed takeover bid would come to fruition.
The stock plunged 51 percent in the heaviest day of trading in its history after Citron Research again raised questions about the viability of Harbin Electric's proposed management-led buyout.
Citron, run by Andrew Left of Los Angeles, had raised questions early in June about a $400 million credit agreement between Harbin Electric's CEO and China Development Bank Corp to finance the bid for Harbin Electric at $24 a share.
The stock closed on Thursday at $6.98 a share, less than one-third of the offer price.
Related readings:


 GE, Harbin Electric sign deal


 Traders bet against Harbin Electric


 Harbin Electric to buy 4 gas turbines from GE

A rash of accounting scandals have come to light in recent months for US-listed Chinese shares, many of which, including Harbin Electric, entered US exchanges via reverse takeovers.
Investors have rushed for the exits, even in companies such as Renren Inc, China's Facebook equivalent, which was a hot investment in its initial public offering a month ago. It is down 62 percent from its first-day close.
"If one company is accused of fraud, you see how other stocks move down together," said Michael Ding, manager of the China Regional fund at US Global Investors in San Antonio, Texas.
"Harbin has been shattered ... it is being accused of fraud; that is what hurting all the other ADRs on Friday. The short-sellers are so vocal, once it is written it is immediately posted."
On Thursday, Left reiterated earlier concerns in a note on his website that also made allegations about how Tianfu Yang, Harbin Electric's chief executive, and his brother, Tianli Yang, obtained a guarantee for a previous loan in 2004.
Left posted documents on the website detailing a settlement between China Construction Import and Export Corp and the Yang brothers involving a criminal case against Tianli Yang, with the Beijing Police Bureau. The document's veracity could not be independently verified by Reuters.
According to the document, Tianli Yang was accused of abuse of power and fraudulent use of an official company seal to provide a fictitious loan guarantee.
An assistant to Harbin Electric's US-based investor-relations officer, Christy Shue, said Shue was traveling and not immediately available for comment.
Several calls to Harbin Electric's outside investor-relations company, New York-based Christensen, were not returned, and calls to the company's China headquarters were not answered.
More than 14 million Harbin Electric shares traded on Thursday on the Nasdaq Stock Market. That marked the busiest day in the company's history, and it was among the 20 most-active shares on the Nasdaq.
"You have to feel a bit in awe when you see these things play out as quickly as they have," said John Bird, a Texas-based investor who had been shorting the stock.
Harbin Electric's CEO Yang, along with the private equity firm Abax Global Capital, had made a $750 million offer to take the company private last October, but they have yet to make a formal bid.
"Why is the company so afraid to be judged without a takeover bid?" Left said in an interview with Reuters on Thursday.
"The market speaks for itself. If you believe the deal is going to be done at $24 then here is a great buying opportunity. But that is not what I believe. This just underscores the danger of investing in Chinese RTOs."
The company's independent accounting firm is listed in regulatory filings as Frazer Frost.
In a reverse takeover, or RTO, a larger company obtains a stock listing without going through an initial public offering by combining with an already-listed shell company.
In recent months, shares of several US-listed Chinese companies, including Longtop Financial Technologies Ltd and Sino-Forest Corp, have been hammered after research firms and short sellers such as Citron and Muddy Waters issued reports making allegations of potential accounting frauds.
Reuters