Police officer shot dead at MIT
BOSTON - The state police launched a massive manhunt after a police officer was shot dead late Thursday on the Massachusetts Institute of Technology (MIT) campus in Boston.
According to MIT website, gunshots were reported at 10:48 pm near Building 32.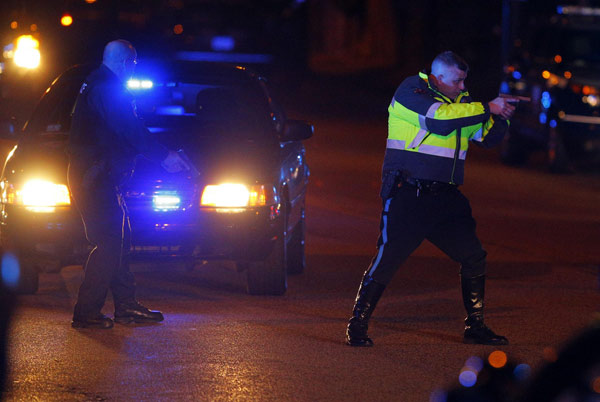 Police officers keep a man on the ground in Watertown, Massachusetts April 19, 2013 following the shooting of a police officer at the Massachusetts Institute of Technology (MIT). [Photo/Agencies]
The officer had been shot several times while responding to a report of disturbance, local media quoted the District Attorney's office as saying.
The officer, who had been taken to the Massachusetts General Hospital with life threatening injuries, died a little after midnight, the state police said.
Police were searching up and down the Charles River near the crime scene. Gunfire and blasts were also reported in streets near the MIT early Friday after the shooting.
CNN reported that at least one suspect was in custody in the neighboring Watertown community.
Areas near Building 32 were currently surrounded by responding agencies who were said to be investigating an "active shooter incident."
The school has advised students and faculty members to stay indoors and away from the building and its surrounding areas.
Heavily armed police were seen in the scene. Aerial units and K-9 units were also dispatched to help with the investigation.
Boston was already shaken by a deadly bombing that killed three people and injured 176 at the Boston Marathon on Monday. The FBI just released photos of two suspects earlier in the day. Strong police presence was seen in nearly every street corner in the city.