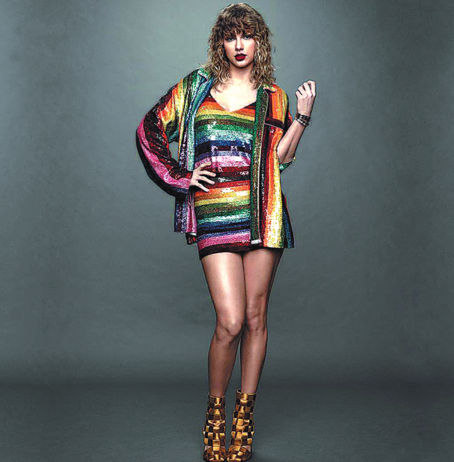 Taylor Swift's new album, Reputation, was released via QQ Music online. [Photo provided to China Daily]
For years, China's music industry was seen as chaotic with record companies seemingly unable to come up with digital business models which could fight online piracy.
However, the Chinese music market is now seen as having enormous untapped potential, thanks to the country's online user base of more than 650 million people and a growing number of licensed digital services.
"It's clear that China's music industry is on the road to recovery after years of battling rampant piracy," says, Xu Wentong, the vice-minister and chief executive of the State Administration of Press, Publication, Radio, Film and Television, at the China Music Industry Forum, an annual music event, which is jointly organized by the State Administration of Press, Publication, Radio, Film and Television, the Communication University of China and the Music Industry Promotion Committee.
A recent report released at the forum, the China Music Industry Report 2017, says that the total size of China's music industry exceeded 320.5 billion yuan ($48.33 billion) in 2016, growing by nearly 8 percent year on year.
It is the first annual official music industry report in China, covering 10 branches, including the physical record industry, the digital music industry, the music performance industry and music copyright. It says that the total revenue from music copyright was 184 million yuan based on statistics from the Music Copyright Society of China, an increase of 8.2 percent year on year.
Separately, the total revenue from music and video copyright was 183 million yuan based on figures from the China Audio-Video Copyright Association, an increase of 18.06 percent year on year.
Meanwhile, the report says: "Of all the emerging markets, where licensed streaming services are engaging fans and growing the legitimate industry, China tops the list for record companies."
It also notes that recorded music revenue grew 20.3 percent in China last year, driven by a 30.6 percent rise in streaming.
One of the main driving forces in the market taking a turn for the better is Tencent Music Entertainment, China's leading online music streaming platform, which brought music streaming providers KuGou and Kuwo under its banner QQ Music.