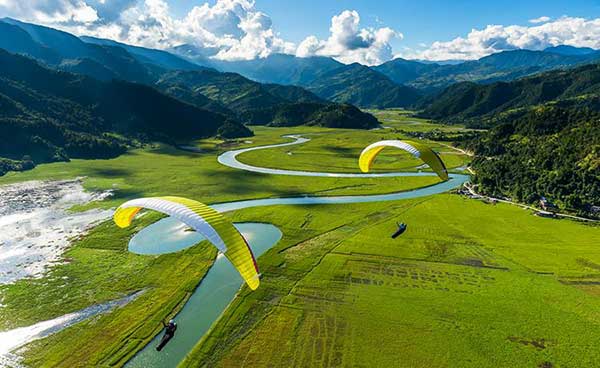 When you paraglide, you run off a cliff with the fabric wing sail open and then use steering lines to fly the paraglider far and high.[Photo provided to China Daily]
The paragliding haven of Pokhara in Northwest Nepal offers up the chance to soar above mountains and lakes against the backdrop of the Himalayas
There is a Chinese saying which goes: "It's easier to get up a hill than it is to come back down." That may be true for mountaineers, but for paragliders in Nepal's northwestern city of Pokhara I'm guessing it's the other way.
The way up to Sarangkot Hill to the west of the city is bumpy and narrow.
"Okay, here we are," says Raj, when our jeep comes to a halt in the middle of the road.
He is the owner of Sunrise Paragliding with which I had booked a 30-minute experience tour.
When I stepped out of the jeep, I was a little shocked by what I saw.