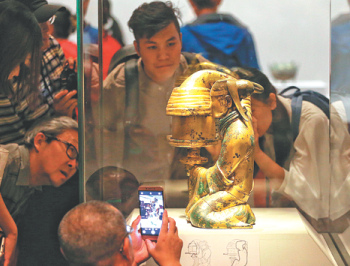 Gilt bronze human-shaped lamp, unearthed from the tomb of Dou Wan. Photo Provided to China Daily
The burial ground of Dou Wan lies a mere 100 meters north of that of her husband, Liu Sheng, a vassal king whose father, Liu Qi, was the fourth emperor of the Han Dynasty. "Both burial grounds are on a mountain slope in Mancheng in central Hebei province. In 1968 the construction of an air-raid shelter led to excavation that in turn led to the discovery of an underground crypt," Wu says.
"The crypt turned out to be one of the two side chambers of Liu's underground tomb, and was used to house chariots and horses. The other was for cooking utensils and food and wine containers."
After it was established that the tomb belonged to Liu Sheng, a Han Dynasty vassal king, based on the discovery of inscribed objects, the archaeologists looked for anything that might point them to the existence of another burial ground, one belonging to his spouse, in the area.
"Then they noticed a stone-strewn ground not far away," Wu says. "The gravel seemed to have been the product of human effort. They dug into the earth, and we have what we know now: an aristocratic lady whose afterlife was steeped in luxury, and her life in mystery."
Based on what could be found out about Liu Sheng, her husband, archaeologists and historians have discovered some tantalizing hints about some aspects of that mystery.
Ban Gu, a renowned historian who was born in AD 32, 145 years after the death of the vassal king in 113 BC, painted a rather wanton portrayal of the man in his definitive history Han Shu (The History of Han). In it Liu is quoted declaring that the main responsibility of a vassal king is to have fun, a declaration that seems to have drawn a furious rebuke from a fellow king. "Your duty is to improve the lives of those within your own kingdom and assist the emperor," Liu was told.
Wu says that seeing Liu as someone who was only out for a good time understates his "quick wit and literary flair."
One example is a short piece of prose, the only written piece Liu left, that he penned about a fine piece of grained wood. It is filled with a majestic elegance befitting a king. Another instance is his pleading in front of the emperor, his younger brother and the ultimate ruler of all land, including his.
That brother, nine years younger than Liu Sheng, was Emperor Wudi, unarguably the greatest emperor of the Han Dynasty and possibly in Chinese history. Determined to consolidate his rule, the emperor kept a suspicious eye on all of his vassal kings, always prepared to strike at the first sign of disobedience. The kings, for their part, lived in anxiety and even fear.