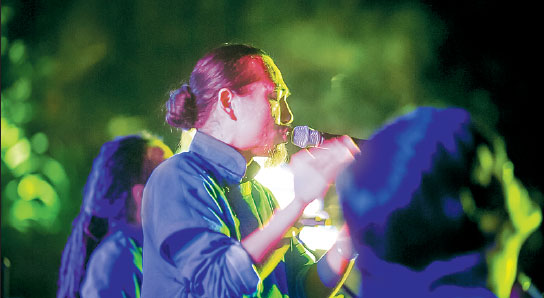 Indie rock band, Rid, from the Inner Mongolia autonomous region. [Photo Provided to China Daily]
The Chinese music market, once seen as chaotic but now viewed as having enormous untapped potential, was in the spotlight at Music Matters, one of the most influential music conferences in Asia, which was held in Singapore from Sept 9 to 13.
The Tencent China Music Forum, organized by Tencent Music Entertainment Group, part of China's internet giant Tencent, took place during the event on Sept 11 and 12, featuring a number of high level content sessions.
Andy Ma, Warner Music's CCO for China, shared a story at one of those sessions.
"About two days ago, when I was in Beijing, I heard a dialogue in a subway station. One young guy asked 'How can I get that song? It's a new release' And the guy he was with said, 'Just pay for it. We just pay 10 bucks and then we get so many subscriptions.' Wow! You see? Consumer behavior is changing. They are more willing to pay for music."
He said that the young generation in China, not just in the first-tier cities such as Beijing and Shanghai, but also second-tier cities such as Chengdu and Chongqing, are hungry for new culture. Young Chinese people listen to the international repertoire and then use the Chinese language to be more dynamic, for instance, hip-hop in Chinese.
According to a recent report by the London-based International Federation of the Phonographic Industry, the Chinese music market is undergoing a turnaround and it has huge market potential.
The market took a turn for the better in 2011, when QQ Music, a music streaming and download service owned by Tencent, established partnerships with a lot of music labels, including the major ones, Warner Music, Sony Music and Universal Music.