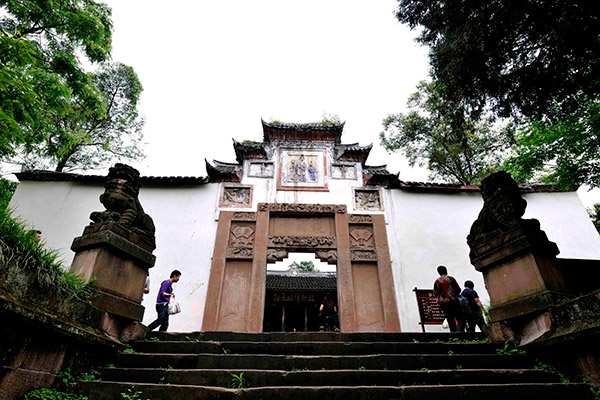 The Diaoyu Fortress is one of the great ancient battlefields of China, located on the Diaoyu Mountain in Hechuan district, Chongqing.[Photo by Huang Jinguo/China Daily]
Cultural forces in Chongqing shaped history and destiny
When the Mongolian army swept across Central Asia and into Europe in 1259, it seemed that nobody could stop them from conquering the world, until unexpected news arrived from the east. Supreme leader Mongke, the Great Khan, had died in a battle near modern-day Chongqing in southwest China. The news caused the army to panic and led to a feud between Mongke's brothers. It resulted in the overall military withdrawal that may have saved the European and Arab civilizations.
Fast-forward 700 years, and the site of Mongke's death, Diaoyu Fortress on a hill in Chongqing's Hechuan district, is in the running for UNESCO World Heritage Site listing.
Excavations since 2012 have discovered the defensive headquarters of a 4,600-strong Chinese army - the last stand against the invading Mongolians.
"A powerful army led by Mongke advanced on the Song Dynasty from the north into Sichuan, the strategic backyard of the then-Chinese empire. Resistance could only be organized in the mountains surrounding Chongqing," said Yuan Dongshan, head of Chongqing Cultural Heritage Research Institute, who is in charge of the excavation.
Archaeologists have excavated 20,000 square meters of the site and found government offices, garrisons, warehouses, and banquet halls. The architecture was designed for war, according to Yuan.
The Song (960-1279) was one of China's more culturally and economically developed dynasties, which saw the invention or popularity of the compass, gunpowder, paper and printing, and which subsequently spread to the rest of the world along the Silk Road.
Archaeologists have also found artifacts from the Tang Dynasty (618-907) when China was one of the strongest countries in the world.