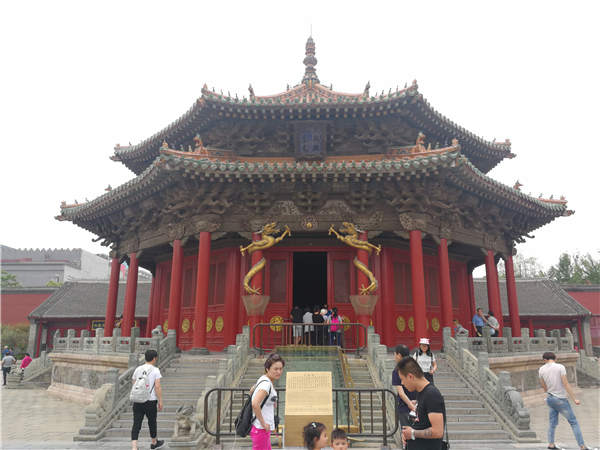 The main structure of the Shenyang Imperial Palace was built in 1625. Photos By Zhao Xu / China Daily and Provided To China Daily
In the blood of the man who laid a pathway to Beijing for Manchu rulers, war was mingled with love
He is notorious for his cold calculation, credited with forcing his stepmother to commit sacrificial suicide upon the death of his father to clear himself of a potential political foe. He was also a man of great ambition and amorous passion, his renown owing as much to his horseback achievements as to the fabled members of his harem.
This is Huang Taiji, founder of the Qing Dynasty (1644-1911), and today there is no other place where his colorful life is more powerfully evoked than in the Shenyang palace.
In the late 16th century, Nurhaci (1559-1626), a chieftain from Northeast China, united all the feuding tribes of his Manchu roots, before launching attacks on the already-rickety Ming Empire. He soon conquered what is now Liaoning and used it as a base for much more daring military moves. Around 1625 (the exact year is a matter of conjecture), Nurhaci ordered the construction of his royal palace, in Shenyang.
However, Nurhaci, who died a year later, in 1626, never spent a day in the residence he envisioned for himself as an emperor. It was Huang Taiji (Huang is not his surname, as the surname for the Manchu royal blood is Aisin-gioro.), Nurhaci's fourth son and successor, who later became the master of the Shenyang palace.
Enter the Shenyang palace from Daqing Gate, the main entrance, and you find yourself facing a yellow-roofed expanse, the Chongzheng Hall, where the emperor pored over mountains of documents or discussed state matters with his generals and court officials. Chongzheng means to fulfill royal duty and be a diligent ruler. Many of the plans that guided the Manchu troops from one military triumph to another must have been hatched here.