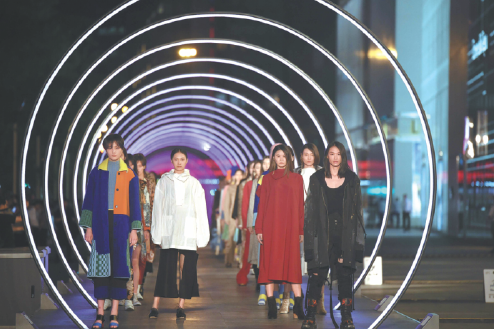 Models walk on the Sonic Runway at the International Fashion Walk at Chengdu International Finance Square, Hongxing road in Chengdu, Sichuan province on May 26. [Photo provided to China Daily]
A 180-meter long audiovisual art avenue made its debut at the International Fashion Walk at Chengdu International Finance Square, Hongxing road in Chengdu, Sichuan province on May 26.
The Sonic Runway is an art installation that uses the difference in speeds between sound and light waves to "visualize" the speed of sound.
The installation comprises illuminations which form an arched corridor.
The Sonic Runway is introduced by Chengdu IFS, an urban complex in the city downtown. When the sound waves pass, they trigger the light module along the corridor leading to a reaction. So, no matter where people stand, the lights and sound are in sync.
The runway was developed by US artists Robert Jensen and Warren Trezevant through 15 years of research and development.
Robert Jensen was inspired to produce the work after attending a music festival in 2002 in the Nevada desert.
He found then that when he was at a distance from a dancer, he would see the dancer out of sync with the music, due to the image reaching his eyes before the sound reached his ears. So, he wanted to create a device so that the sound would be "visible".
"The development of science and technology promotes innovation in art. And the Sonic Runway represents the speed of sound through the visualization of light, which synchronizes sound and light, and visualizes sounds," says Jensen.
Meanwhile, along with the runway, a French jazz singer together with performers from the Sichuan Opera presented a crossover performance that blended both art forms.
Separately, three independent designer brands-Yirantian, i.am.chen and WMWM-worked with emerging French fashion brand Faith Connexion to hold a fashion show.
Faith Connexion released a limited-edition jacket exclusively for Chengdu.
The Chengdu International Finance Square signed an agreement with Paris Saint-Germain-des-Près Committee on International Sister Streets, agreeing to jointly undertake a wide-range of cross-cultural exchanges on art, culture, commerce and tourism.
Having a similar natural style and keeping constant pace with the renewal and evolution of the city, the friendship between both Chengdu and Paris is one that has been established naturally.
"Chengdu's housing prices are relatively affordable. Consumption habit here is more about leisure, not so much of life pressure, People in general have a huge demand for gastronomy, clothing and luxury. And the consumption is mainly for self-use. This helps to stimulate domestic demand greatly," says Christina Hau, general manager for operations at Wharf China Estates.