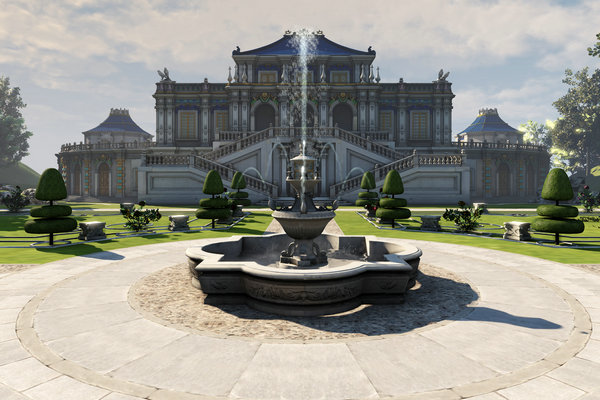 A digital restoration of the northern section of Xieqiqu (harmonious wonder). [Photo provided to China Daily]
Fifteen years ago, He Yan, an architecture student, was visiting the Old Summer Palace in Beijing with her academic supervisor, Guo Daiheng, of the School of Architecture at Tsinghua University.
Guo, 66, riding a bicycle through the park, pointed into the distance and told her 23-year-old protegee: "This is Jiuzhou Qingyan, and that is Tianran Tuhua, two palace complexes of the Old Summer Palace."
Anyone who had overheard the professor may well have thought she was hallucinating, for at that time the park was nothing but wasteland, and the buildings of which she spoke had been laid waste 142 years earlier.
However, Guo's expertise in matters to do with the Old Summer Palace allowed her to effortlessly draw on her mind's eye to project exactly where the buildings had once stood.
The Emperor Kang Xi, the fourth emperor of the Qing Dynasty (1644-1911), started building the imperial park in 1709, and it was expanded by his two successors, Emperor Yong Zheng and Emperor Qian Long. With constant construction over a century, the park eventually covered more than 3.33 square kilometers, the area of 600 soccer fields, and was home to more than 1,000 palaces and more than 100 viewing spots.