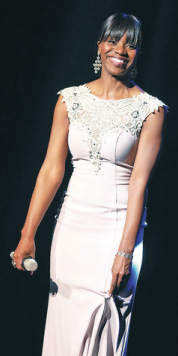 Singer-actress Carole Stennett plays the role of Rachel Marron in the musical Bodyguard. [Photo provided to China Daily]
The award-winning musical Bodyguard, which is based on 1992's hit movie with the same title and starring US actor Kevin Costner and the late American singer-actress Whitney Houston, will kick off its China debut tour in Shanghai on June 30 and visit a total of 12 Chinese cities, including Beijing, Wuhan and Nanjing through November.
The romantic thriller, which was written by screenwriter Lawrence Kasdan, was adapted for the stage by Oscar winner Alexander Dinelaris.
The musical premiered in 2012 at the Adelphi Theatre London, starring Heather Headley and Lloyd Owen.
The story is about pop superstar Rachel Marron, who is stalked and employs a bodyguard, Frank Farmer, to protect her. The two develop a relationship as days go by. The movie's soundtrack has become a best-sellers, including songs performed by Houston: I Will Always Love You, I Have Nothing and Run to You.
Directed by Thea Sharrock, the musical was nominated for four Olivier Awards, including best new musical.
The musical finished its West End run in 2014 and toured the UK, Ireland, Canada and Australia before coming to China.
"It had to take elements from the movie, especially those famous songs. There are also a few changes, such as the focus on the singer, Rachel Marron, her son and her sister. More of Houston's songs have been added, such as So Emotional, All at Once, and Saving All My Love for You," tour manager Theresa Rose Baker says in Beijing.
"For a stage production, we wanted to bring along more songs so that we get the fun-feel factor. I think it's a very clever link that Lawrence Kasdan worked on for the child character. That's the key from the film to the stage. They have really worked on the child, (who is) more highlighted in the stage production," Baker adds.
Singer-actress Carole Stennett, who joined the musical about two years ago and started by playing the role of Nicki Marron, Rachel Marron's sister, will play the leading role in Chinal.
"It's an exciting challenge to play the role of Rachel Marron and perform these classic songs of Houston," says Stennett, who was in Beijing to promote the musical's China tour. "Houston was the person who made the role established. I tried to create my own meanings of the songs."
Besides vocal training, she also received dance classes since her performance in the musical requires dancing moves.
"I wasn't a dancer. You just can call me a 'mover'. But this experience has been amazing and it taught me new techniques," she adds.