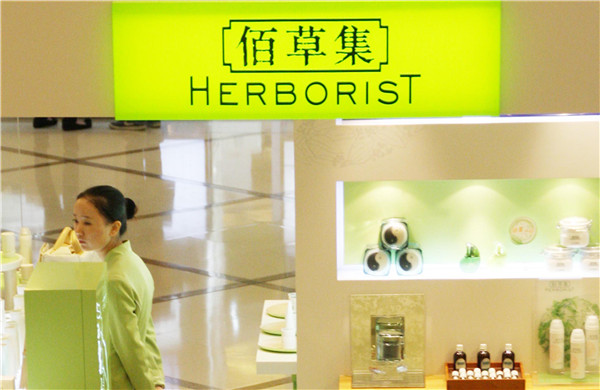 Chinese skincare brands are seeking to rejuvenate themselves by appealing to younger shoppers, with a heavy focus on putting traditional Chinese medicine in their manufacture. [Photo by Nan Shan and Wang Jingsheng/For China Daily]
Younger shoppers are being won over as cosmetics makers underline the time-tested benefits of traditional Chinese medicine.
A few days ago a cartoon was disseminated among users of the Chinese instant messaging app WeChat that told a spy story set in China in the early 20th century, and within 24 hours it had attracted more than 5 million views.
The posting turned out to be a publicity stunt by Pechoin, one of the oldest local skincare brands in China, the aim being to stir up interest in local skincare brands long overshadowed by their rivals from overseas.
Like many local cosmetics companies, Pechoin, founded about 85 years ago, underwent a steady decline in the early 2000s when international brands started to make inroads into the Chinese market.
But 10 years or so ago the company began to experience a burst of rejuvenation appropriate to the kinds of products it sells. That was thanks to a management decision to diversify the product range, extend the company's retail network in smaller cities and infuse its products in popular culture by appointing Karen Mok, a well-known singer, as its spokeswomen.
It became one the earliest local brands to open a store on Tmall, China's major online marketplace, and last November it became the best-selling local skin care brands in the Singles Day shopping festival, following brands such as Mary Kay, L'Oreal and Olay.