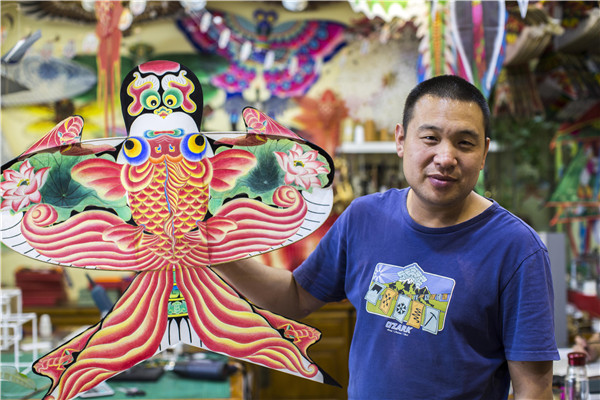 A Chinese craftsman usually makes a frame of bamboo, which needs cutting and trimming, and then paints the sails in traditional Chinese styles. It is a very laborious process. [Provided to China Daily]
Liu Bin, 40, spends most of his time giving classes
Many Chinese would think nothing of spending 200 yuan ($29) on a big meal or watching a Hollywood blockbuster.
But would they pay so much for a kite - often seen as little more than a children's toy.
Liu Bin, 40, wants to change that perception.
He owns a small kite shop in downtown Beijing's Di'anmen Street. It is decorated with distinctive kites, mainly in the shapes of swallows, goldfish, the legendary Lord Rabbit, dragons, the Monkey King, and Peking Opera masks. Some are tiny enough to fit in the palm of your hand, while others cover an entire wall.
Most are handmade and they all sell for more than 200 yuan, about ten times of the price of his online rivals. More expensive kites could cost tens of thousands yuan.
Liu says his kites deserve their high price tags: "A kite is more than a flying toy. It is made with rich Chinese culture and a craftsman's wisdom."
Kite flying has a history of more than 2,000 years in China. It is thought to have begun as a means to pass military information in war, and gradually became a popular folk pastime in spring.
In ancient times, people wrote down their sufferings on kites. When the kites flew very high, they would cut the lines, hoping their misfortunes would also disappear.
Unlike mass-produced kites made of umbrella cloth and carbon fiber, a Chinese craftsman usually makes a frame of bamboo, which needs cutting and trimming, and then paints the sails in traditional Chinese styles. He then ties the kite to the reel and flies it.
It is a very laborious process. Liu says a kite usually takes 20 days to make.