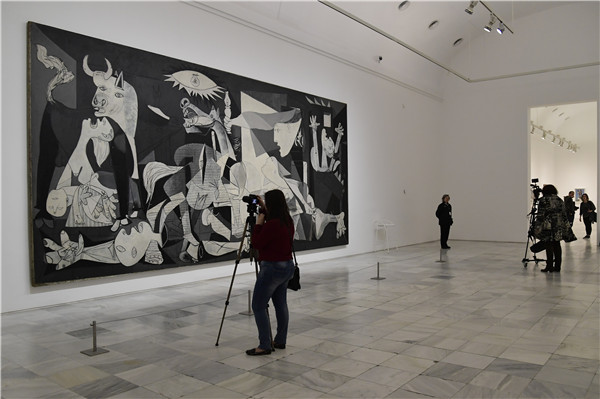 A woman takes pictures of a painting by Spanish artist Pablo Picasso titled The Guernica during the presentation of the exhibition Pity and Terror: Picasso's Path to Guernica at the National Museum Reina Sofia Art Center in Madrid on April 3. [Photo/Agencies]
She was Picasso's forgotten wife, written out of history as a "neurotic", snobbish depressive who was a drag on the great artist.
But a new exhibition is shining a very different light on Olga Khokhlova, his first wife who he refused to divorce because he did not want to split his artworks and his vast wealth with her.
Drawing on previously unseen letters, photographs and films from the Picasso family's private archives, Olga emerges as a major influence on the greatest painter of the 20th century.
Picasso fell madly in love with the beautiful Russian ballerina in 1917 after seeing her dance in Parade by Sergei Diaghilev, Erik Satie and Jean Cocteau for which he had designed the set and the costumes.
The exhibition at the Picasso Museum in Paris-the first ever devoted to Olga-shows how she was his main model and muse throughout his classical period.
First his view of her was carnal, but as time went by and his ardor cooled, he portrayed her as melancholic, often sitting or reading.
Later as their marriage soured in the 1920s and 1930s, Olga is shown as "deformed" and contorted by pain and regret.