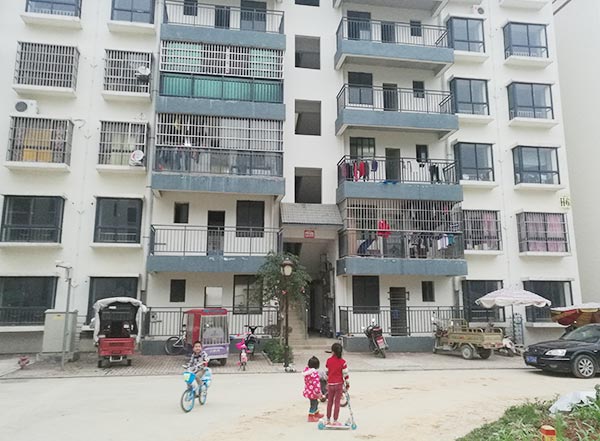 New apartments and workshops are being constructed in Dahua county, Guangxi, to help people relocating from remote rural areas. [Photo provided to China Daily]
In Dahua, a county to the northwest of Nanning, a program is underway to provide subsidized housing for the poor.
Since 2014, dozens of people have relocated from the nearby villages to Minzu Xin Cheng (roughly translates to "new ethnic town"), local officials say. The semi-urban site is located at about 150 kilometers from the capital of South China's Guangxi Zhuang autonomous region.
Of the county's 460,000 people, some 80,000 live below the poverty line, which is nationally defined by the annual household income of 2,300 yuan ($335).
The project started with the building of the first apartments in 2012 and is scheduled to be completed in the next three years. Spread across 310 hectares, the site's plan includes multiple housing blocks, a hospital and a school. It is being developed by the Guangxi Wuzhou Baoheng Investment Co Ltd.
"We expect 360 rural families to move in this year," says Qin Jie, who works at the relocation office on-site.
Members of the Yao ethnic group, the area's dominant population, have lived in the surrounding mountainous villages for generations, growing corn and raising pigs or poultry for subsistence. The rocky terrain has made it tough for them to farm other crops, with the scant availability of groundwater adding to their woes.
Wei Reipeng, a 52-year-old security guard at the housing project, earlier led a similar life in Jiasi village about 20 kilometers away.
"Before coming here (in 2014), my income was unstable," he says, adding that he, his wife and their son together make some 1,000 yuan a month these days working different jobs.
The apartments-in current sizes of up to 80 square meters-are coming up in a county that is only partly urbanized. To a visitor, the complex could give the appearance of being in the middle of nowhere. But Qin says the new settlers will find economic engagement in future. The project has witnessed an investment of 2.1 billion yuan to date, he adds.
At least two workshops for handmade clothing and an electrical hardware store were visible near a brand-new pavement at the site during a recent visit by China Daily.
By 2020, when China hopes to end absolute poverty, nearly 29,000 people in Dahua will need to be relocated.