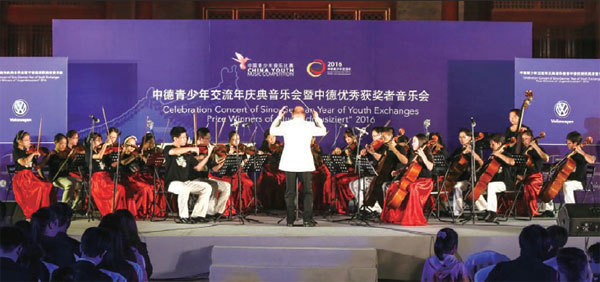 Young musicians perform at the Sino-German Youth Communication Celebration Concert on Sept 23 in Beijing. Photos Provided to China Daily
In Volkswagen's view, the measure of a company's success in the 21st century goes beyond its annual profit and sales figures. Good companies must be willing to contribute more widely to the communities in which their business success is built to truly demonstrate their leadership.
Volkswagen Group China takes this responsibility seriously. Reflecting the group's more than 30 years of being in China, Volkswagen has long worked to replicate the close relationship it has enjoyed with its Chinese customers on a broader social level. It views culture as an ideal vehicle through which to achieve this.
Jochem Heizmann, member of the management board of Volkswagen Group and president and CEO of Volkswagen Group China, said they have always had a strong focus on culture and cultural exchanges, which is in line with the tradition of Volkswagen Group.
"I believe that communication means learning from each other, and is a process of understanding each other," Heizmann said. "We hope to deepen mutual understanding and exchange of knowledge between China and Germany through a variety of cultural projects."
Volkswagen Group China's promotion of culture and support for education and bilateral exchanges in the field has been steadily growing for a number of years. The umbrella for this effort is the PACE strategy - participation, connection, education and exchange.