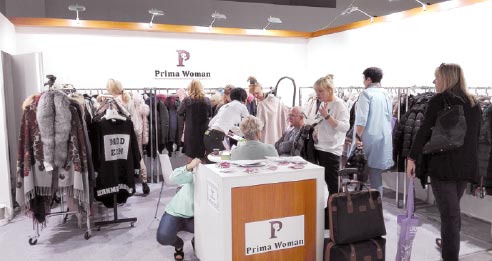 Icebear and 16 of its fellow Yabao Road companies attended the 2016 Collection Premiere Moscow, one of the best known Eastern European fashion fairs, in the Russian capital from Aug 31 to Sept 3. [Photo provided to China Daily]
When fire tore through a huge wholesale market in Moscow in 2009 the businesses of many Chinese traders, including that of Zheng Riwei, were left devastated. But far from giving up, he decided to pull what remained of his business from the ashes and rebuild it.
"There were objections in my family to what I was doing, but I resolved to carry on regardless," says Zheng, who has sold down jackets for about 20 years.
"I felt a keen responsibility to the staff, and if I gave up the company was going to disappear."
Contemplating his losses of $4 million, Zheng says, it dawned on him that if he was going to succeed in his rebuilding, a new approach was needed. That would mean he would have to become more competitive, and to do this he needed to establish an independent brand that would give his business staying power.
Nearly 20 years ago Zheng set up business in Manzhouli, a land port on the border with Russia, and several shops in Russia, including in Moscow. In the aftermath of the fire he returned to Yabao Road market, where he had set up operations in 2004, and registered the trademark Icebear. In about a year, he says, he had managed to breathe life back into his business, something he attributes largely to the faith his customers put in him. The company now employs more than 1,000 people, he says.
Zheng's determination may also have something to do with breeding: he is a native of Zhejiang province, regarded as a hothouse for entrepreneurs and the cradle of e-commerce; the internet giant Alibaba was born there.
On AliExpress, an overseas version of Alibaba's Tmall.com, Icebear opened for business in September, 2014 and it has become one of the most recommended clothing stores on the platform. More than 100 products are sold there, and its jackets have been sold in more than 50 countries and regions, including Europe and North and South America.
On Single's Day, Nov 11, last year Zheng sold goods worth $300,000, a phenomenal result he is only modestly satisfied with, because he reckons Icebear ought to have done a lot better.
"Because of our lack of experience and e-commerce staff everything sold out in 30 minutes. We were poorly prepared and short of inventory."
However, Zheng is more than satisfied with the way his company operates in other areas. It has a team of more than 40 that thoroughly investigates product quality and fashion trends locally and worldwide, he says, and that has helped the company gain a reputation for the quality and price of its products.
For Zheng, the man who once could only contemplate ashes, one key element of keeping alive the business be revived is keeping pace of change.
"Physical stores still account for 80 percent of the business, but e-commerce will eventually predominate."
Ma Jia, vice-president and secretary-general of Beijing Yabao Road International Chamber of Commerce, says: "Zheng is one of the most persistent businesspeople in the Yabao Road market in e-commerce, and you can put his success down to his determination."