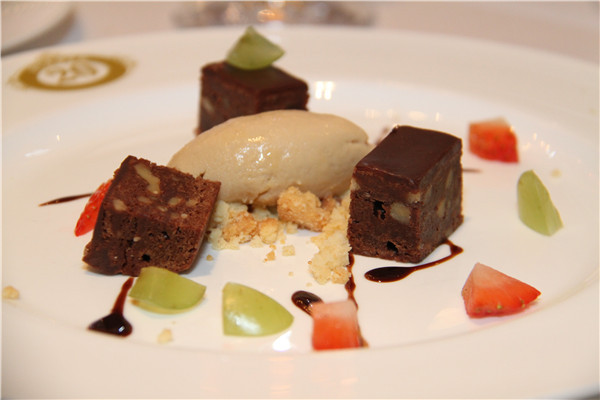 Browny with hazelnut ice cream. [Photo provided to China Daily]
For many Chinese, Australia is not only an attractive tourism destination, but also an important source of affordable high quality wines. Its celebrated wine region, Margaret River in Western Australia, is one of the world's great wine producing regions.
Stella Bella, a boutique winery from the wine region, held a wine-tasting event in Beijing last week, pairing some of its premium wines with a specially designed menu.
The Margaret River region is where the Southern Ocean and Indian Ocean meet, and it thus has a very pleasant climate. It gets a lot of wind, but it never gets too cold, and it never snows.
The warm, dry summers are great to grow Chardonnay and Cabernet grapes, says Nick James-Martin, export sales manager with Stella Bella.
The winery produces 20 types of wines, and about half a million bottles a year. It has a strong domestic market, with only about 20-30 percent of its production exported.
China now absorbs about one third of the exports, making it one of the winery's largest foreign markets, says James-Martin.
The winery now seeks to expand its exports to 40 percent of its annual production, and hopes that China will maintain its share of the imports.