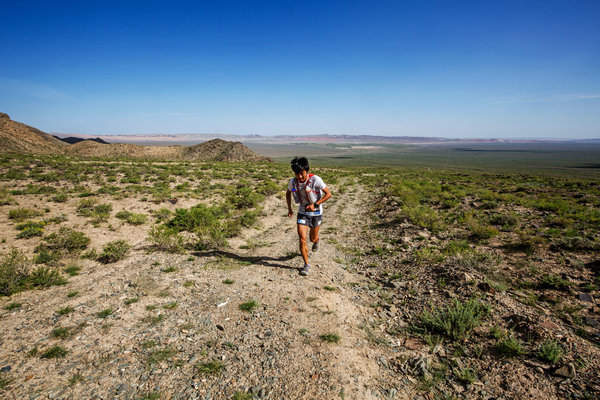 Professional runners worldwide gathered at Yumen national park to get close to its pristine nature and challenge themselves. [Photo provided to China Daily]
The Yumen National Park swept more than 300 professional runners from home and abroad off their feet in September with its attractions-the Danxia landform, its silicified wood, a volcano and a desert.
Situated in Yumen city in the northwestern province Gansu, the park is pristine with hardly any sign of human intervention.
The race was organized by the local government in conjunction with the Nanjing Migu Interactive Entertainment Co to bring attention to the park.
"Its natural beauty combined with its rugged terrain form a perfect background," says Witold Smieszek from Poland, the director of the race.
Yumen, which plans to open the nature reserve to the public from next year, organized the race here as the mountains, the canyons, and sand plains have not been seen by many people.
"We wanted the runners to have the experience of a lifetime, featuring a challenge, a reward, and happiness," says Smieszek.
"Athletes taking part in the race did not just run the course, finish and leave, but rather enjoyed the local festivities and atmosphere."
Safety and showcasing the region's natural beauty were taken into account when charting the challenging race course.
The organizers also ensured that vehicular access was possible and placed volunteers at key locations along the running trail.
The course offered an unparalleled diversity of terrain, with the first section taking runners through stunning narrow sand canyons, and the colors going from red to green to white and to gray in a matter of 20 kilometers.
The trail was very narrow posing plenty of challenges to the runners.
Then, just as the course reached the volcano, it took the competitors to the Gobi plains-a seemingly flat yet very difficult part of the race-and then headed toward the high mountains on the other side of the valley.
The mountain section began with a climb of 1,500 meters over 8 kilometers, testing the endurance and strength of every competitor.
It (the trail) then went over a mountain ridge, referred to as the Devil's Ridge.