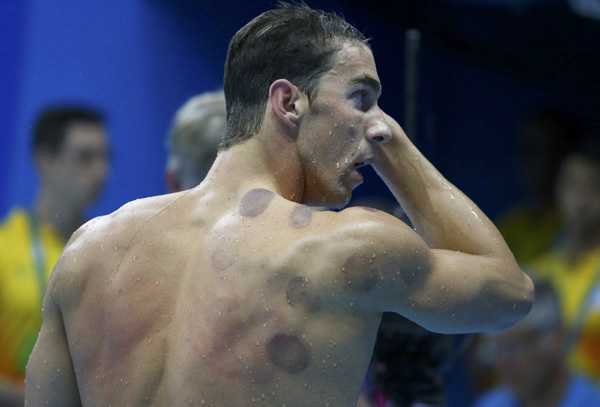 US swimmer Michael Phelps has appeared at the Rio Olympics with purple circles dotting his back and shoulder-the telltale mottling left by the ancient Chinese treatment of cupping. [Photo provided to China Daily]
Ancient Asian medical treatment is having an Olympic moment
I sported those purple round welts on my body long before Michael Phelps was born. OK, so Phelps made the world aware of cupping by showing his marked muscular shoulders before diving into the pool at the Rio games.
But cupping, and a similar treatment known as coining, has been practiced in East Asia for centuries. I grew up with them. My mother made sure of that.
Phelps, the 31-year-old US swimming star, was seen with purple circles dotting his shoulder and back before his first race at the Olympics. The circles were caused by the ancient Chinese treatment, in which he is a great believer.
It involves pressing glass or plastic cups to the area of discomfort and either applying heat or suction to create a vacuum. The suction causes the large hickey-like marks.
Another similar treatment is coining. The principle is the same: press a large metal disc with an attached handle on the area of discomfort. While cupping is virtually unknown in the rest of the world - and dismissed by doctors educated in Western medicine as hocus pocus - it is commonplace in China, Cambodia, Vietnam and Myanmar as a cure for ailments as varied as fever, tuberculosis, rheumatism and muscular pain.
I remember, some 40 years ago (I am 46), when I fell sick, my mother always did coining on me. She would rub coconut oil on my skin and then push the coin all over, leaving rows of welts. It scared me. I would cry and sometimes run away. But my mother would say: "Be patient! It will take only a few minutes to complete and it will hurt just a little bit, like an ant bite."
So I would let her, and it usually helped.
In my generation, most people did coining when they had fever including my relatives, siblings and neighbor. Cupping became popular later.