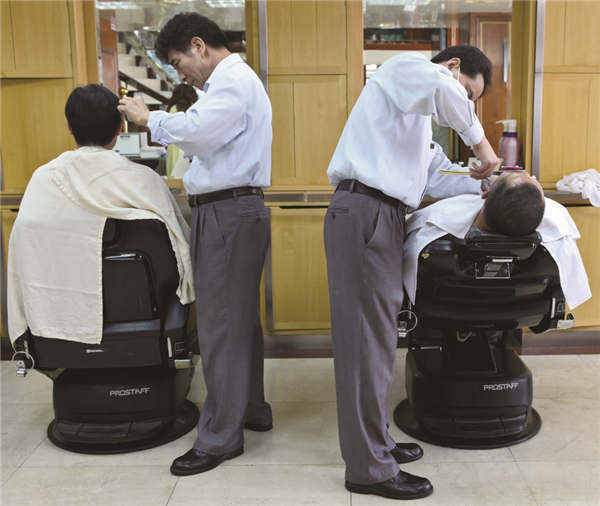 The Nanjing Hair Salon in Shanghai is among the oldest of its kind in the country and it used to attract celebrities and wealthy people. Provided to China Daily
By noon on Tuesday, his first working day of the week as Monday is the day off for his shop - the Nanjing Hair Salon in Shanghai - the 56-year-old Chen Mingxing has cut the hair of about a dozen people.
But instead of looking satisfied, the barber appears rather unhappy.
Not that the Shanghai native dissatisfied with his morning's work. But the manager of the city's, as well as the country's, most historic hair salon is worried that despite a lot of customers this may not be enough to sustain the over 80-year-old business.
"Summer is particularly tough. With less hair-dying and curling, we have not been making profits even though every one of us is busy," says Chen, who has been working at the Salon for the past three decades.
Founded in 1933 by Huang Huapei, a Chinese-born American who was very upset by the poor haircut he got while in Shanghai, the Nanjing Hair Salon is widely known as the largest and most high-end of its kind in the city, if not China.
Its two-floor space covers an estimated area of around 500 square meters, and boasts 27 seats attended by some 70 staff.
According to the Shanghai Chronicle, in the 1950s, there were about 200 branded barber shops in the city, 50 of which were listed as premium.
But Nanjing Hair Salon remained the most expensive and coveted among the 50, mostly frequented by local celebrities and the wealthy, because of its imported equipment and location on Nanjing Road West, one of the most bustling commercial streets in China.
At its peak in the 1930s and later in the 1980s, lines outside the salon used to form before sunrise, especially before Chinese New Year, as tradition has it that a haircut means a new outlook.
Well-known figures that used to have their hair done at the salon included Soong Meiling, film star Hu Die and Ruan Lingyu.
"Barbers here were more like celebrities," says Chen.