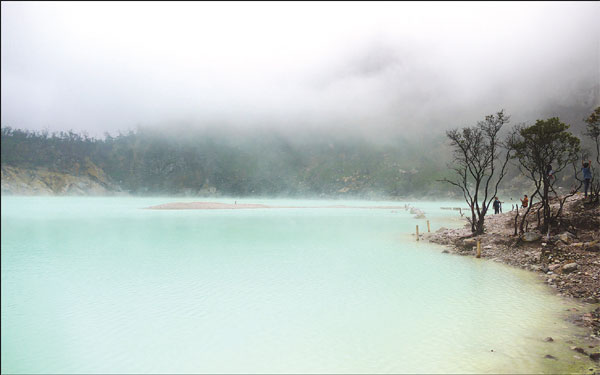 Kawah Putih is a crater lake, which is like a wonderland and draws many domestic and overseas tourists. [Shao Fenglei / For China Daily]
With its diverse geography and ethnic groups, Indonesia offers a lot to the visitors with its more than 17,500 islands
A wonderful holiday in Indonesia doesn't necessarily mean Bali Island. The country boasts numerous beautiful volcanoes, islands and cultures.
Take Tangkuban Perahu, for instance. It is a volcano about 30 kilometers from Bandung, Indonesia's third largest city by population.
The active volcano, situated at an altitude of about 2,200 meters, has erupted more than a dozen times since 1826. The last time was October 2013.
I walked to its edge for a close look at the magnificent crater.
Birds flew by from time to time.
Visitors can buy disposable masks from vendors nearby to beat the pungent odor of sulfur.
The volcano has a legend which is similar to the Greek tragedy Oedipus. It is about a beautiful woman, an immortal dog and her son.
Besides the volcano, situated at an altitude of 2,430 meters is Kawah Putih, a crater lake about 50 kilometers from Bandung.
The color of the water in the lake - which changes from bluish to whitish green or brown - is subject to the concentration of sulfur in the water and the weather.