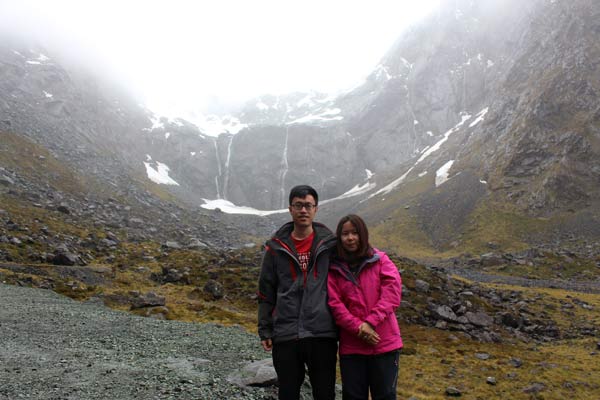 Li Yi, 28, and his wife enjoyed their road trip in New Zealand in 2014. [Photo provided to China Daily]
At the end of 2014 Li Yi, his wife, and a cousin went on a 10-day road trip in the South Island of New Zealand. The aim was eventually to return to the country to see other areas.
"It was great fun," says Li, 28, a Beijing office worker. "I had never driven such long distances, and it was the first time I had driven in a place where they drive on the left. I was not used to it at first."
They spent less than 6,000 yuan ($920) on diesel and 10,000 yuan on an all-wheel-drive SUV rental, Li says. There are no road tolls in most parts of New Zealand.
They are fans of The Lord of The Rings and were keen on visiting places where the film trilogy was shot. Apart from New Zealand's beautiful scenery and fresh air, they also enjoyed their encounters with animals such as seals and penguins by the sea and alpacas by the roadside.
"Doing a road trip gave us the great freedom and convenience that group travel can never offer," Li says. "We could stop wherever we wanted and stay as long as we wanted. It was also up to us as to where to eat and what to eat."
In New Zealand it would be tiring traveling to several places each day with a tour group because of the long distances, he says. In fact you would be able to spend only half an hour or so in each place after a two- or three-hour stint of driving.
"You really have to obey the local traffic rules, and courtesy is the main thing. If you're making a turn, you have to give way to passengers and cars going straight on. You're not supposed to blow your horn unless there's an emergency."
The South Island is full of forests and national parks, he said, and often when they were on the road they drove past pretty scenic spots, although if they noticed many cars parked at some of these places they would pull up to get a view of the scenery. Hitchhikers are common, he said, and in one case they picked up a backpacker who happened to share his passion for soccer.
He suggests that those planning road trips for the first time gather as much information online and plan their itinerary and routes. Road trippers should take a navigation device with them or rent one, he says.
There are also some other, more interesting ways of seeing New Zealand. For them, one of those was going on a helicopter excursion that gave them a bird's eye view of grand glaciers and snow capped mountains. At one point, when the helicopter broke through clouds, they felt as if they were going to crash into them, he said.
The next time he goes to New Zealand, he says, his parents may accompany him, and he is likely to rent a campervan because of the extra convenience, including the ability it gives travelers to stay overnight at scenic spots. It also saves the hassle of looking for the way to a hotel each day.
"I had to calculate things every day so we didn't get to hotels too late. If you stay at a campsite you can unwind, have fun and mingle with other travelers."