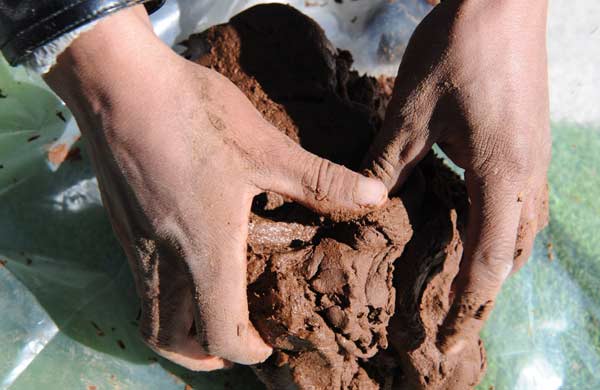 One of the processes of making Nyemo incense. [Photo by Tentsen/China Daily]
Nyemo county, Lhasa, has a pivotal role in the history of Tibetan civilization. Not only is it the hometown of the creator of the Tibetan character Thonmi Sambhota, but it is also the birthplace of Tibetan incense, paper and engraving, known as the "three treasures of Nyemo". Now, these crafts have made considerable progress, as artisans work on developing them. As a result, not only have these crafts become a means of livelihood for local farmers and herdsmen, but they have also become carriers of Tibetan culture.
Nyemo paper is completely handmade. Produced since the 7th century, it is made of a root called Herba Gelsemii Elegantis, found in the Himalayas 6,500 feet above sea level. After digging up the poisonous root, craftsmen strip its fresh brown skin, mash up the root and boil it in a pot for half a day. They stir the paste repeatedly until it becomes a pulp. The paper is well known for its acid-free and anti-corrosive characteristics.
Nyemo incense is used mainly at sacrificial ceremonies, but it can also be used to prevent flu and influenza. Its ingredients include saffron, sandalwood, Chinese usnea and borneol.
Pusum in Nyemo county is known from engraving. The engraved plates, with figures or pictures, are used in Tibetan Buddhist rituals.