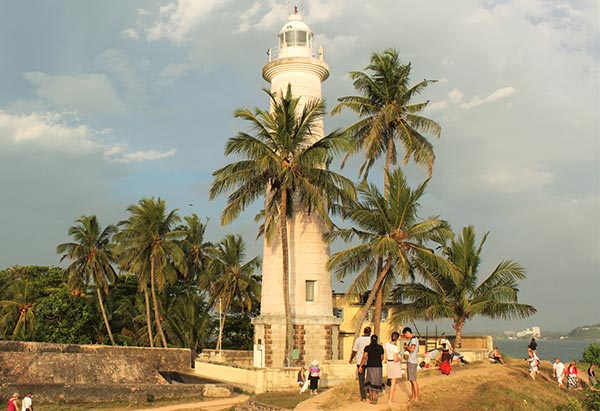 The Galle Clock Tower. [Photo by Ben Lerwill/China Daily]
Spoiler alert: I didn't see any leopards. There. I've said it. I'd come on safari to Yala, the Sri Lankan national park renowned for having the world's highest concentration of leopards, but despite spending upward of 10 hours rumbling through the park's forests and grasslands in a jeep, I didn't see a single spotted big cat. Not a tail. Not a whisker. You'd think at least one of the creatures might have sensed a nice photo opportunity and padded into a clearing for a few seconds. No. Leopards are many things, I learned, but they're not marketing-savvy.
Here's another spoiler though: I was far less bothered than I thought I would be. Yala is located on Sri Lanka's south coast, and it says much about the region that when you're here, details like a lack of obliging leopards seem fairly trivial. The coastline is lined with surf beaches, palm trees and sun-splashed villages. Its main settlement, Galle, is a bona fide UNESCO-listed wonder. And Yala itself is nothing if not a busy place-the park teems with all sorts of other exotic inhabitants, from elephants, sloth bears and peacocks to jackals, crocodiles and sea eagles.
If you find yourself grumbling in Sri Lanka, in other words, you need to ask yourself some fairly serious questions. My southern explorations began in Galle, the colorful coastal city settled by the Portuguese in 1589 and subsequently ruled by both the Dutch and the British before Sri Lanka regained its independence in 1948. The city gives rich insight into several centuries worth of history: Its best-known feature is its sturdily handsome colonial fort, which these days encloses an entire town's worth of streets, hotels, shophouses and restaurants.
"You should try to take a walk around the ramparts right about now," advised Yatawara, my jovial driver for the week, when we arrived in Galle just before sunset. "It's the best time of day for it." I took his advice, flinging my bag into my hotel room and heading out into the warm evening air.
Yatawara knew what he was talking about. The high walls of the fort form a loop of around three kilometers, and almost the entire length was astir with people-locals, tourists, couples, snake-charmers and selfie-snappers. Three sides of the fort look out onto the Indian Ocean (the fourth, incidentally, gives a fantastic view of Galle's famous cricket stadium) and the sunset panoramas, glowing crimson and orange in the dying light, were spectacular.