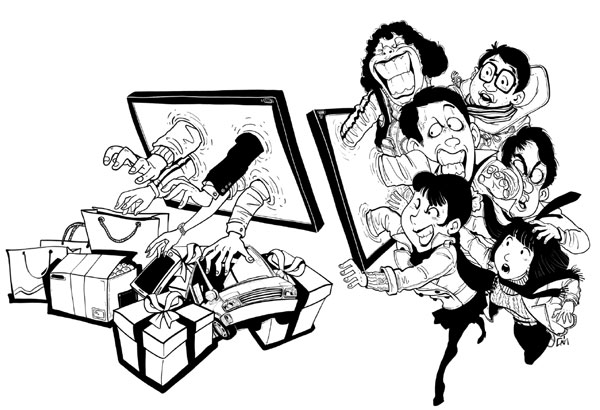 Nov 11's American cousin, Black Friday, has a few things to commend it, but one big failing
In Beijing, just as we were still wrestling with the polluted air of a miserable, gray Saturday, in the United States anyone interested was getting into the full swing of Black Friday.
Black Friday, in case you haven't heard, is a shopping festival that is the equivalent of the now famous Nov 11 Internet shopping extravaganza in China, and it seems, going by last Saturday, that a cyber version of the American event is as strong here as it is in the land of its birth.
Major Chinese e-commerce companies all promote Black Friday sales of overseas products on their websites. Chinese can also buy through websites of department stores in New York, including Macy's, Saks Fifth Avenue and Bloomingdale's now that payment can be made through Alipay and goods shipped to China directly.
I decided to see if I could get a few good deals from these kinds of stores without having to go within so much as a block of Fifth Avenue, sitting at home in front of my computer.