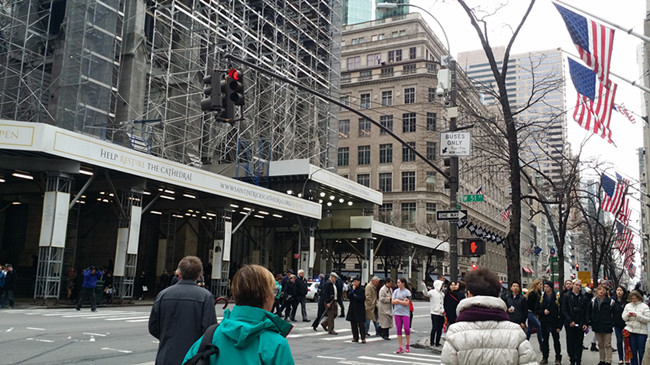 The Fifth Avenue attracts lots of Chinese shoppers. [Photo provided to China Daily]
The China National Tourism Administration says that last year 107 million people from the Chinese mainland traveled overseas, a tenfold increase on the number 15 years ago.
In fact, almost everywhere you look, figures relating to Chinese and their overseas travel habits tell just one story, one of explosive growth. In the UK, the country's tourist bureau VisitBritain says 185,000 Chinese visited the country as tourists last year, more than double the number six years ago. In the first half of this year about 90,000 Chinese traveled to the country, 28 percent more than in the corresponding period last year.
Last year, VisitBritain says, Chinese tourists splurged 497 million pounds ($750 million) in the country, 326 percent more than five years earlier, and they ranked as the planet's most munificent tourists there, spending about 2,700 British pounds on average per person. VisitBritain hopes to see annual total spending of Chinese tourists in the country to double by 2020.
And yet it seems that Britain and its famed shopkeepers cannot get enough of this cash windfall. Last month, Prime Minister David Cameron announced that from next year Chinese visitors to Britain will have visas that are valid for two years, with an extension from the current six months, seeking more benefits to the British economy. There are also plans for a 10-year multi-entry visa for Chinese visitors at no extra cost.
No matter the claimed shift by Chinese away from luxury goods, nearly 40 percent of them still shop in luxury stores, VisitBritain says, and the country's fashion brands are particularly popular items.
Staying attuned to these shoppers' demands has become a global concern among retailers and others who drink from the Chinese tap of good fortune, and it has myriad analysts occupied with what marketing types might call active brand management - doing everything in their power to cajole and please Chinese shoppers and to cut juicy deals with Chinese business partners who will help deliver barrow loads of money to the front door.
In that lucrative project retailers and shopping centers everywhere are pumping out lovingly designed maps and guidebooks that are next to useless to most locals - they are in Mandarin - have recruited Chinese-speaking guides and offer convenient tax refund services for Chinese visitors.
Some have extended shopping hours that take account of the fact that Chinese often compress busy itineraries into very short timeframes, and many of these retailers, not long after they have finished counting their Christmas takings, crank back into top gear to make the most of Chinese New Year.
"Many shopping malls overseas have discount seasons during festivals such as Thanksgiving, Christmas and New Year," Ma says.