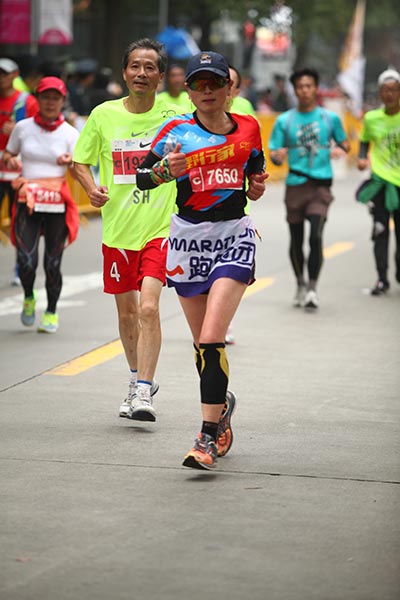 An increasing number of Chinese runners travel away to join various marathons staged at home and abroad, as running has been picked up by many as a fashion of lifestyle and attitude. [Photo provided to China Daily]
Amateur Chinese runners are enjoying marathons in a different city every weekend, not for the prizes but to get away from their routines.
It's not unusual for Wu Jixia, who is in her 40s, to pack her stuff and go to a different city at the weekend to join a long-distance running competition and return home on Monday.
The office worker from Urumqi in the Xinjiang Uygur autonomous region ran an ultra-marathon (mostly 50 or 100 kilometers) in Jiuquan, Gansu province in early November.
The 50-kilometer competition featured Gobi desert landscape, which was more difficult and complex than urban roads and was a challenge for every competitor.
It took Wu about eight hours to complete the race, and she made it just 20 seconds before the event ended.
"It was the hardest race I've ever run, and I'm so proud of myself for sticking it out," says Wu.
She took a train from Jiuquan to Urumqi after the competition, so she wouldn't miss work the following day.