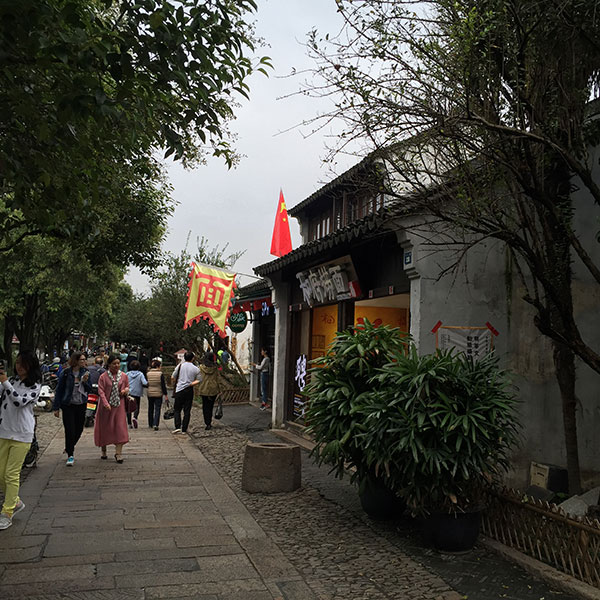 [Photos By Yang Feiyue/China Daily]
Exciting interaction
After the gardens, Pingjiang road in the ancient town promises an exciting interaction with local folk elements.
Walking down the road gives visitors a sense of what the Chinese like to call a water town, typical of those in the southern regions of the Yangtze River.
The neighborhood is mostly filled with buildings with white walls and dark grey tiles.
Boutiques displaying flowers, local handicrafts, mainly knick knacks of bamboo, and small eateries selling local snacks and food line the main street along the river, where wooden boats with a few guests can be seen sailing.
The road area retains the layout of the old city of Suzhou as it was 2,500 years ago, according to local lore.
Gu says that this was discovered after seeing a map from the Song Dynasty (960-1279).
The general structure of the area looks like what is on the old Song Dynasty map.
"You can see many side streets running off from the main street, and the whole area looks like a fish bone," adds Gu.
For a quick bite, Gu recommends a small diner called Pinfang on the main street. It is tiny but cozy thanks to the warm yellow lighting.
The food, mostly local snacks, more than make up for the crowded environment.
A plain-looking porridge featuring rice and smashed jumble beads has a silky texture.
Sweet-scented osmanthus syrup creates a heavenly palate experience.
"The simple dish hides a lot of delicate work," says Gu.
The silky texture is achieved when jumble beads are steamed and peeled before being smashed, and the osmanthus syrup is made using mainly plum jam, which acts as a natural preservative so the osmanthus can retain its golden yellow color, she says.
Outside the ancient town, the city's Shantang old street is a microcosm of ancient Suzhou. It used to be a bustling trade and culture center in the Ming and Qing dynasties.
The street runs for 3,600 meters and the best part is that visitors can see it standing on a stone bridge right in front of its entrance.
The street features white-walled and dark grey-tiled buildings on each side of a river where wooden boats were anchored. It was very much alive and packed with visitors at night, with red lanterns hanging from the roofs of ancient-looking buildings.
The area is outside the ancient town of Suzhou but only 15-minute drive away from Pingjiang road.
Currently, the most common way to reach Suzhou is taking a 20-minute high-speed rail trip from Shanghai.
If you want to see modernity in China, Shanghai is the place to go. But to see some slices of Chinese culture, go to its backyard Suzhou.